Cruise missile now operational: defense source
The Wan Chien cruise missile was declared fully operational and ready for use by Aerospace Industrial Development Corp-built Indiginous Defense Fighters (IDFs) following a classified live-fire test and evaluation against sea targets on Thursday, a defense official said.
The missile, developed by the Chungshan Institute of Science and Technology, is submunitions-bearing, utilizes GPS and inertial navigation system guidance and has an effective range in excess of 200km, the official said on condition of anonymity.
The new missile will give the air force the ability to strike at China's coastal military air bases and amphibious ship groups, the official said.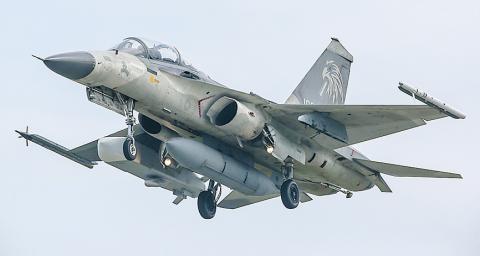 An Indiginous Defense Fighter armed with a Wan Chien cruise missile flies over Hualien County on Saturday.
Photo: Yu Tai-lang, Taipei Times
After the institute completed the final operational test and evaluation in February last year, the military began limited field testing of the missile, the official said.
It subjected the missile this year to more rigorous tactical trials that simulated combat conditions and examined its functionality, reliability and damage potential, the official said.
Last week's live-fire test and evaluation, utilizing two IDFs from Chihhang Air Base (志航) in Taitung, was completed in under 25 minutes, the official said.
One of the twin-seat fighter trainers fired one missile at surface targets in the seas to the southwest of Taiwan, while the other fighter and a Juiyuan drone monitored the exercise and transmitted real-time data to the institute's Jioupeng Military Base (九鵬基地) in Pingtung County, the official said.
The air force implemented strict measures to ensure the secrecy of the evaluations, canceling one planned test after a fishing boat accidentally entered the restricted zone and rescheduling it multiple times to increase security, the official said.
The Wan Chien missile is now the longest-ranged weapon with a cluster munition warhead that the IDFs can carry, the official said.
All of its IDFs were upgraded under the Hsiang Sheng program to enable to them to carry the new missiles.
The IDFs could fire Wan Chien missiles from Taiwan's median line in the Taiwan Strait to attack Chinese air bases, assembly areas, loading zones and military positions as far as China's Fujian and Guandong provinces with neutralizing or destructive effect, the official said.
Computer simulations in previous Han Kuang exercises indicated that Wan Chien missiles are crucial weapons for the military's multilayered deterrence doctrine, the official said.
Comments will be moderated. Keep comments relevant to the article. Remarks containing abusive and obscene language, personal attacks of any kind or promotion will be removed and the user banned. Final decision will be at the discretion of the Taipei Times.