FEATURE: Expert urges continued research of methane hydrates
The nation should continue funding exploration projects for methane hydrates to maintain its "strategic considerations," said National Taiwan University (NTU) professor of oceanography Liu Char-shine (劉家瑄), who in October is to work with German researchers in a drilling expedition for the compound near Taiwan.
While the nation promotes energy transformation by encouraging investments in solar and wind-power installations, research on alternative sources of energy, such as methane hydrates, receive less public attention. That changed somewhat last month when a team of Taiwanese and French researchers extracted methane ice off the southwestern coast.
Methane hydrates, also known as "combustible ice," are ice-like solids mainly composed of methane molecules surrounded by a cage of water molecules.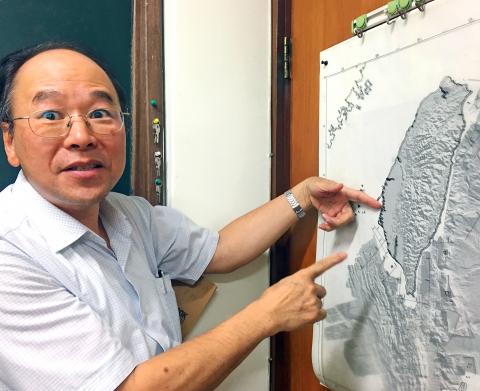 National Taiwan University oceanography professor Liu Char-shine points to seabed drilling locations during a Taipei Times interview on July 5.
Photo: Lin Chia-nan, Taipei Times
Deposits can be found below the seafloor where the water depth is greater than 300m on continental margins, in regions with permanently frozen ground, or permafrost, and in some glaciers, the US Geological Survey (USGS) said in March in a news release explaining its research.
While methane hydrates are believed to be a potential source of energy, their volumes and locations, as well as their potential effect on climate change, are unsolved questions for scientists, the USGS said.
In March 2013, Japan achieved the world's first gas extraction from methane hydrate deposits, with the deposits under the seabed off the coast of Aichi Prefecture.
China in May last year extracted gas from underwater methane deposits in a disputed area of the South China Sea. At the end of April, it dispatched two research submersibles to explore methane hydrates in a northern part of the South China Sea, an article by The Diplomat said on June 2, raising concerns over whether the resource would become "a critical factor in Asia's regional security."
On July 2, China's Guangzhou Port Authority announced it would build a research base for methane hydrates and expects the construction of the facilities to be finished by 2021, according to Chinese media reports.
In comparison, Taiwan's exploration for the resource might be suspended with the second-phase National Energy Program (NEP-II) — a cross-agency platform for energy research projects — drawing to an end this year.
Following last month's extraction, the government should spend at least three more years producing a complete report detailing the locations and amount of methane reserves in its waters, which would be good for "strategic considerations," Liu said in an interview with the Taipei Times.
Given most of the nation's energy sources are imported, it should continue research and development of methane hydrates, in case fuel imports are blocked in a potential cross-strait conflict, he said.
Although there is a long way to go before methane hydrates would become fully commercialized, the government should secure sufficient information about them before putting an end to studies, so scientists would know where to start drilling when economic conditions allow, he said.
The methane hydrate deposits off the coast of southwestern and southern Taiwan amount to 1,578.2 billion cubic meters, according to estimates by the Ministry of Economic Affairs' Central Geological Survey (CGS), which has been surveying the resource near Taiwan since 2001.
If 30 percent of that could be extracted, nearly 473.4 billion cubic meters of the methane reserves would be exploitable and could supply the nation's gas consumption for nearly 32 years, the CGS said.
Many foreign researchers are enthusiastic about Taiwan's methane reserves, Liu said, citing speeches he made in other countries.
In addition to French researchers' assistance in last month's extraction, the US Monterey Bay Aquarium last year brought a remotely operated underwater vehicle (ROV) and autonomous underwater vehicle (AUV) to help with the survey, he said.
Next, he and fellow researchers are to work with German scientists to conduct a seabed drilling mission off the coasts of Kaohsiung and Pingtung County, Liu said.
The mission, part of his project listed under the NEP-II, is to start on Oct. 15 and run through Nov. 18, and would involve 20 Taiwanese and 20 German researchers onboard the German research vessel Sonne, Liu said, adding that he had sought the collaboration two years ago.
As the project's leader, Liu said he might not join the voyage, as he wants to grant the opportunity to younger researchers.
They have identified four major regions for the drilling expedition, including the area where the Taiwanese-French team extracted methane ice last month, he said, expressing hopes that they would make a similar discovery.
While methane hydrates are considered a promising energy source for future generations, the considerable cost involved in their extraction and delivery makes their exploration not yet commercially feasible, Liu said.
The price of crude oil is another factor affecting the global effort to extract the resource in terrestrial and marine environments.
It was estimated that the price of crude oil should rise to US$80 for terrestrial exploration to be worthwhile, and to US$150 or US$200 for their marine extraction to be profitable, he said.
However, the cost could be reduced if new extraction techniques are developed, as shown by the history of shale oil and gas exploration in the US and Canada, he said.
Regarding the upcoming closure of the NEP-II, Liu said it is a conducive platform for researchers across disciplines to study sources of alternative energy and that similar studies are difficult for individual researchers to complete.
NEP-II chief executive Wu Kuang-chong (吳光鐘) said the discovery of methane ice last month arrived "too late" to stop the energy program from closing, adding that the Ministry of Science and Technology's funding for the subject has shrunk this year.
Researchers interested in methane hydrates could seek funding from the ministry for individual projects from next year onward, Wu said.
Before its termination, the NEP-II's research of the past five years are to be presented at the Biotechnology and Green Energy Expo at Tainan's Commercial Exhibition Center from Oct. 5 to 8, he said.
Asked if it would launch other exploration projects for methane hydrates, especially as China is doing so, the Ocean Affairs Council said that as the body was only established in April, it needs to deliberate with other government bodies first.
Nonetheless, the council was set up to protect the nation's marine resources and next year might work with the ministry to seek funding for exploration projects, it said.
Comments will be moderated. Keep comments relevant to the article. Remarks containing abusive and obscene language, personal attacks of any kind or promotion will be removed and the user banned. Final decision will be at the discretion of the Taipei Times.