Fu Kun-chi mulling KMT Taoyuan mayor position
Hualien County Commissioner Fu Kun-chi, an independent whose affiliation leans toward the pan-blue camp, is reportedly contemplating the idea of running for Taoyuan mayor.
Fu, who is to finish his two-term stint in Hualien at end of this year, was in 2009 dismissed from the Chinese Nationalist Party (KMT) after registering to run for Hualien county commissioner without a party nomination.
According to sources within the KMT, the party's Taoyuan chapter director, Yang Min-sheng (楊敏盛), had recently asked to meet with KMT Chairman Wu Den-yih (吳敦義) and KMT Vice Chairman Tseng Yung-chuan (曾永權) to convey local concerns about KMT Taoyuan mayoral candidate Apollo Chen's (陳學聖) allegedly struggling campaign and suggest a change in candidacy.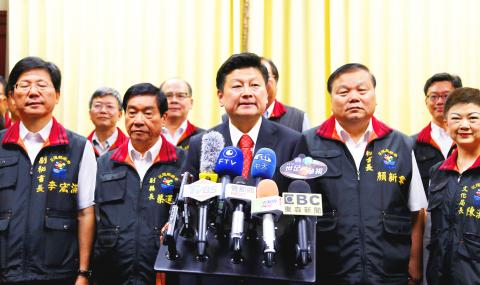 Hualien County Commissioner Fu Kun-chi, center, speaks at a news conference in Hualien on May 30.
Photo: CNA
While neither Wu nor Tseng had met with Yang, the proposal was an attempt by factions within the party to push Fu to the forefront, the sources said.
However, the KMT is not considering replacing Chen with Fu as its Taoyaun mayoral candidate, because his wife, Hsu Chen-wei (徐榛蔚), is already the party's Hualien county commissioner candidate for the Nov. 24 election, a party member said.
Never in the history of the Republic of China have a husband and wife run for public positions simultaneously, the member said.
"The party must carefully weigh public opinion on this matter," the member said, adding that Hsu's legislator-at-large seat was given to her largely as a gesture of goodwill from then-KMT chairman Eric Chu (朱立倫), reportedly due to his close ties with Fu and Hsu's maternal family.
Should Fu run for Taoyuan mayor, he would have to resign as Hualien County commissioner, which would see an acting commissioner appointed by the central government, the member said.
The Nov. 24 elections will see voters choose the mayors and city councilors in the six special municipalities, mayors and councilors in other cities, Aboriginal district representatives and councilors, county commissioners and councilors, township mayors and councilors, and borough and village wardens.
Comments will be moderated. Keep comments relevant to the article. Remarks containing abusive and obscene language, personal attacks of any kind or promotion will be removed and the user banned. Final decision will be at the discretion of the Taipei Times.