Man jailed for life for raping, killing model
The Taipei Shilin District Court yesterday sentenced Cheng Yu (程宇), 24, to life in prison and deprived him of his civil rights for life for raping and killing a female model.
The crime took place in Taipei's Nangang District (南港) in March last year.
During an initial investigation, Cheng tried to mislead investigators into believing that his girlfriend at the time, surnamed Liang (梁), was behind the plot to kill the model surnamed Chen (陳), and told them that she raped and killed Chen under Liang's instructions.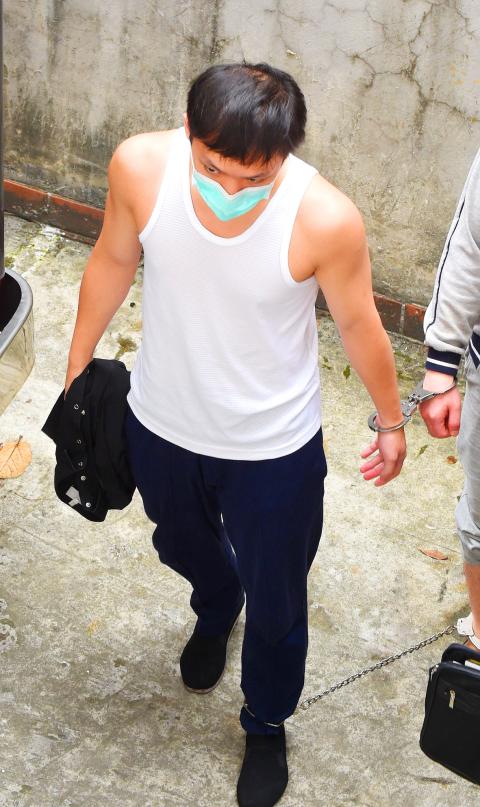 Judicial police yesterday escort Cheng Yu into the Shilin District Court in Taipei, where he was sentenced to life imprisonment for the rape and murder of a model surnamed Chen.
Photo: Liu Hsin-de, Taipei Times
Prosecutors in an indictment in June last year sought the death penalty for Cheng, while dropping the charges against Liang.
Cheng was found to have prior convictions for sexual assault, fraud, forgery, forcible confinement and causing bodily harm.
Evidence and testimonies showed that Cheng invited the victim out for a photo shoot, but led her to a building's basement.
Cheng wanted to have sex with Chen, who was Liang's friend, but she likely resisted him, prosecutors said.
Cheng then strangled Chen, rendering her unconscious, and then raped her, they said.
Cheng strangled the victim to death to cover up his crime and made calls and sent text messages from her mobile phone to give the impression that she was still alive, prosecutors said.
During the trial, Cheng said Chen had consented to having sex with him, and that he strangled her to death by accident.
Chen's parents yesterday said they wanted the court to impose the death penalty, adding that they would appeal to a higher court.
They said Cheng deserved to die because he had planned to kill their daughter, adding that capital punishment could deter other such would-be criminals.
Comments will be moderated. Keep comments relevant to the article. Remarks containing abusive and obscene language, personal attacks of any kind or promotion will be removed and the user banned. Final decision will be at the discretion of the Taipei Times.