Start-up turns sugarcane into eco-straws
USEFUL WASTE: More than 20 Chinese companies have tried to buy 100% Plants' technology, but it values being a Taiwanese company, the start-up founder said
Taiwanese start-up 100% Plants turns sugarcane byproducts into polymer raw materials that are used to make biodegradable straws, potentially opening new avenues for research into sustainable alternatives for plastic.
Simple chemical aggregation methods would be sufficient to render sugarcane by-products, or bagasse, into polymer raw materials, which could be used to manufacture biodegradable straws, 100% Plants founder Huang Chien-chung (黃千鐘) said on Friday.
Developing the processes was not without its challenges.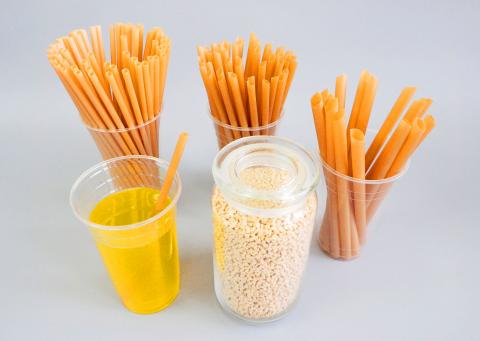 Biodegradable straws of various sizes made from sugarcane by-products are displayed in Nantou County on Wednesday, together with a bottle of the raw material used to make the straws.
Photo: Chen Feng-li, Taipei Times
The first factory that they collaborated with complained that the materials were "unusable," Huang said, adding that solutions necessitated modifying the factory's machines.
After calibrations and tests, a product was produced that would not crack or splinter, even when subjected to temperatures of minus-20°C, Huang said.
The company is collaborating with National Taiwan Ocean University to determine the product's rate of degradation when submerged in ocean water or in fish stomach acid, he said.
"We hope that the test results will prove that our product is environmentally friendly," Huang said.
The Rural Development Foundation fully supports the start-up's idea, foundation president Hsieh Chih-cheng (謝志誠) said, adding that using what would otherwise be considered agricultural waste as a substitute for polyethylene is practical and eco-friendly.
The start-up is researching using discarded bamboo to manufacture one-time utensils, with a prototype undergoing tests in the US and Australia, he said.
The company's efforts have attracted the attention of several French tourist destinations, as France's Energy Transition for Green Growth Act intends to ban plastic plates, cups and utensils by 2020, he added.
The start-up is in talks with the localities regarding the possibility of turning grape bagasse and barley pulp into useful products, Huang said.
The start-up has refused offers from more than 20 Chinese companies over the past two months wishing to buy its technology, he said.
"We do want to make money, but we give an even higher priority to working with the international community as a Taiwanese company," Huang added.
Comments will be moderated. Keep comments relevant to the article. Remarks containing abusive and obscene language, personal attacks of any kind or promotion will be removed and the user banned. Final decision will be at the discretion of the Taipei Times.