Winners of Tang prizes in law, Sinology announced
DECADES OF EXPERIENCE: An Oxford-educated legal scholar was yesterday cited for his contributions, while an American and a Japanese were named on Wednesday
Colombia University professor Joseph Raz yesterday won the 2018 Tang Prize in rule of law, a day after Osaka University professor emeritus Yoshinobu Shiba and Harvard professor Stephen Owen were named the joint winners of this year's Tang Prize in Sinology.
Academia Sinica Institutum Iurisprudentiae head Lin Tzu-yi (林子儀), the convener of the selection committee, announced Raz's win at a news conference in Taipei.
Raz, an expert in legal, moral and political philosophy, is the Thomas M. Macioce Professor of Law at Columbia Law School, although he spent most of his career at University of Oxford's Balliol College, where he earned his doctorate. He is concurrently a research professor in law at King's College London.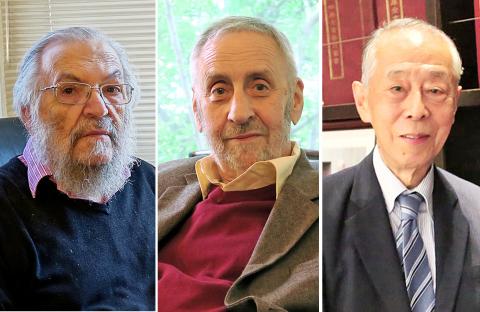 From left, Joseph Raz, Stephen Owen and Yoshinobu Shiba, the winners of the Tang Prize in rule of law and in Sinology respectively are pictured in a composite photograph.
Photos: CNA
The committee cited Raz's groundbreaking contributions that have helped to deepen people's understanding of the nature of law, legal reasoning and the relationship between law, morality and freedom.
Over the past 50 years, Raz has developed a reputation as "one of the most acute, inventive and energetic scholars currently at work in analytic legal, moral and political theory," the committee's citation said.
On Wednesday, the committee cited Shiba's mastery and depth of insight into Chinese socio-economic history, especially that of the Song Dynasty, while Owen was praised for his scholarship and theoretical ingenuity in classical Chinese prose and poetry, especially Tang Dynasty poetry and translations of it.
Raz's win yesterday wrapped up four days of announcements by the selection committee of this year's honorees.
The winners in the four fields — sustainable development and biopharmaceutical science were announced earlier in the week — are to receive their awards at a ceremony at the National Sun Yat-sen Memorial Hall in Taipei on Sept. 21. The winner of each each prize receives a NT$40 million (US$1.32 million) prize and a five-year research subsidy of NT$10 million, a medal and certificate. Joint winners share the prize money and research subsidy.
Raz has perhaps made more contributions "than any other living jurists or legal theorists" in terms of enhancing people's understanding of law, the selection committee said.
In an interview with the Central News Agency (CNA) in London yesterday, the 79-year-old Raz said it was "a tremendous honor" to win.
"It's doubly amazing and pleasing because it is such a total surprise, and quite a bit intimidating to join such distinguished company," he said.
"I have been mostly observing, reading, commenting, trying to talk to people, but having little involvement in actual legal practice and political activity," he said. "It's very pleasing to be recognized and to be made to follow in the steps of other very impressive recipients."
The rule of law is the "bedrock stability," vital to all societies for their cultures to be of service to the people who live there, he said, adding that the fantastic thing about the law is that it is "absolutely universal."
People are born into societies that have their own ways of doing things, cultures and norms and they learn how to behave, how to adjust and how to take advantage of the opportunities available in those societies to creatively develop a way of life for themselves, he said.
Among the most crucial virtue a legal system should possess is to "realize individual autonomy," he said.
On Wednesday, Owen, 71, the James Bryant Conant University Professor at Harvard, told CNA that he was grateful to be honored with a prize that seeks to unite Chinese culture with all other cultures and grow with them together.
Sinology remains deeply grounded in the Han Chinese past while always seeking new ways to keep that past alive, he said.
"The field hopes to unite its ethnic cultural origins with the possibilities its gains by moving through the world, moving among cultures and growing with them," he said.
Speaking of his translations of poetry and prose, Owen said he believes that the most important thing is to "be loyal to the past and at the same time find new ways to make the work show its vitality in the contemporary academic field to lead readers to appreciate the complexity and charm of Chinese history."
Shiba was hailed by the selection committee as one of the few academics in Sinology today who perfectly integrate the essence of Chinese, Japanese and Western scholarship, using his training in Western social science and history to assimilate information about traditional Japanese literature and Chinese language data.
Shiba, 88, is the executive librarian at Toyo Bunko, a library and research institute in Tokyo dedicated to the study of Asian history and culture.
He said that he was truly surprised to learn of his win.
"At first I dared not believe it, but then I thought that for Sinology, my efforts seemed to have been helpful. It makes me very happy. Thank you very much," Shiba told CNA.
"Without a good knowledge of China, it would be difficult to understand many parts of the Japanese language, literature and history," he added.
Comments will be moderated. Keep comments relevant to the article. Remarks containing abusive and obscene language, personal attacks of any kind or promotion will be removed and the user banned. Final decision will be at the discretion of the Taipei Times.