Pilot program to subsidize clean energy in rural areas
A pilot program by the Bureau of Energy to subsidize civic groups' "clean energy" generating facilities in the nation's remote areas could help build a new energy model in Taiwan, New Power Party Legislator Kawlo Iyun Pacidal said yesterday.
Kawlo in September last year urged Premier William Lai (賴清德) to balance the needs for clean energy and energy justice during a question-and-answer session at the Legislative Yuan.
In response, the bureau on May 20 set down guidelines for subsidizing the construction of clean energy generating facilities in remote areas by civic groups.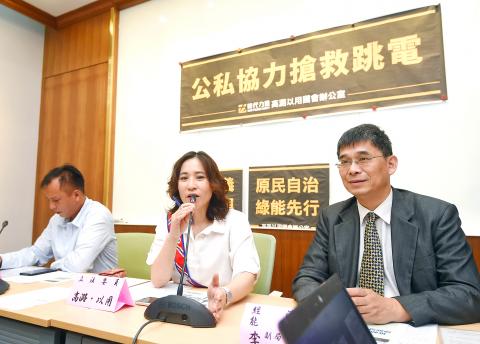 New Power Party Legislator Kawlo Iyun Pacidal, center, and Bureau of Energy Deputy Director-General Lee Chun-li, right, hold a news conference at the Legislative Yuan in Taipei yesterday.
Photo: Fang Pin-chao, Taipei Times
"The program will allow residents in remote areas, especially Aborigines, to lead the development of clean energy generating facilities. This will not only help promote energy democracy, but also better ensure that those areas have sufficient energy," said Kawlo, who is Amis.
Considering that the nation is highly dependent on Taiwan Power Co (Taipower) for energy, the project would also improve the stability of the nation's energy supply, she said.
Many Aboriginal communities in remote areas have the natural resources to develop solar, hydroelectric or geothermal power plants, but building those facilities would require collaboration, bureau Deputy Director-General Lee Chun-li (李君禮) said.
"The bureau used to focus on building power supply systems with Taipower in remote areas, but now we hope to encourage residents in those areas to lead such projects," he said.
Such facilities could provide backup power to local communities when Taipower facilities are damaged by natural disasters, Lee added.
"If they have any surplus energy, communities can also profit from that by selling it to Taipower," he said.
The bureau is to accept 10 proposals to build clean energy generating facilities in remote areas and provide a subsidy of up to NT$2 million (US$66,912) to each project to cover expenses in the initial assessment stage.
"Civic groups only need to have a rough idea of what kind of facility they would like to build, and the government would help pay the expenses needed to hire professionals for further investigation and assessments," Li said.
In addition, the government would subsidize up to half of the construction expenses — with a cap of NT$10 billion — for each of the five cases that have passed initial reviews.
Aboriginal groups would have higher priority than other groups, the bureau said, adding that the deadline for applications is Aug. 31.
"We hope to learn from this process and are ready to make adjustments if anything needs to be changed," Lee said.
The program requires the government to inform Aborigines and obtain their consent before building power generating facilities in their communities, Kawlo said, adding: "Community residents can be masters of their own fate and lead local energy plans."
Hopefully, this program will soon create the first energy plant jointly built by civic groups and the government, she said.
Comments will be moderated. Keep comments relevant to the article. Remarks containing abusive and obscene language, personal attacks of any kind or promotion will be removed and the user banned. Final decision will be at the discretion of the Taipei Times.