Swazi king promises loyalty to Taiwan
DONE DEAL: An agreement was signed that calls for improved cooperation between the two nations in areas such as technology, trade and investment
King Mswati III of Eswatini yesterday pledged to be Taiwan's friend in "good times and bad times," as he witnessed the signing of an economic cooperation agreement by representatives of the two countries in Taipei.
The king made the remarks during his formal meeting with President Tsai Ing-wen (蔡英文) at the Presidential Office Building, a day after he joined Tsai to observe a portion of the annual Han Kuang military exercises in Taichung.
He arrived on a state visit to Taiwan on Wednesday and is scheduled to depart on Tuesday next week.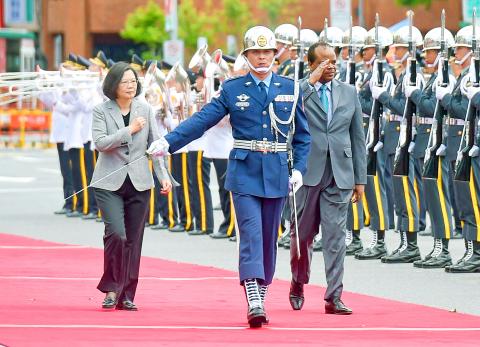 President Tsai Ing-wen, left, receives Swazi King Mswati III with a formal military ceremony in front of the Presidential Office Building in Taipei yesterday.
Photo: Huang Yao-cheng, Taipei Times
Having visited 17 times, the king said he is always warmly received by the Taiwanese government and its people, from whom he intends to learn, as his kingdom is in the process of transforming into a developed country.
Tsai's administration has demonstrated itself to be an effective team that endeavors to communicate with the public about its policies, the king said.
Although Taiwan's efforts to contribute to the international community have been restricted, he is confident that "the world will realize one day the things your country has contributed immensely to," the king said.
He also pledged his allegiance to Taiwan amid reported efforts by China to poach Eswatini — Taiwan's only remaining African diplomatic ally — before a summit of Chinese and African leaders in Beijing in September alst year.
Late last month, Burkina Faso severed ties with Taiwan and switched recognition to Beijing.
"Coming to our second home, I want to also make the commitment that whatever the challenges, we will always be together. You know we're friends in good times and in bad times. We will always be friends," the king said.
In her speech, Tsai expressed gratitude for Eswatini's long-term support in the international arena.
"Despite the difficulties we face regarding international participation, we have never considered isolationism. We have pledged not to engage in a diplomatic bidding war [with China], but that does not mean we will isolate ourselves from the international community," she said.
Taiwan has the capacity and the willingness to make a greater contribution to the world, Tsai said, adding that setbacks would only make her nation braver.
The agreement was inked by Minister of Economic Affairs Shen Jong-chin (沈榮津) and Swazi Minister of Commerce and Trade Jabulani Mabuza, with Tsai and the king acting as witnesses.
The agreement calls for stronger cooperation between Taiwan and Eswatini in the areas of economics, trade, technology, investment and environmental protection, and is designed to facilitate a mutually beneficial partnership and improve the welfare of both countries' people, the Presidential Office said in a news release.
Comments will be moderated. Keep comments relevant to the article. Remarks containing abusive and obscene language, personal attacks of any kind or promotion will be removed and the user banned. Final decision will be at the discretion of the Taipei Times.