New naturalized citizen sets sights on public office
Former Chinese citizen Zhou Shuguang (周曙光), who yesterday applied for a Republic of China (ROC) passport after becoming a naturalized citizen and obtaining an ROC identification card on Thursday, has expressed an interest in running for public office so that he can experience democracy in action.
The journalist, who achieved international fame after exposing Beijing injustices on his blog, yesterday said that he appreciates, but does not shy away from, the symbolism of requesting an ROC passport on the 29th anniversary of the Tiananmen Square Massacre.
Zhou, also known as Zoula (佐拉), became qualified to obtain ROC citizenship after residing in Hualien's Rueisui Township (瑞穗) with his Taiwanese wife for the past seven years.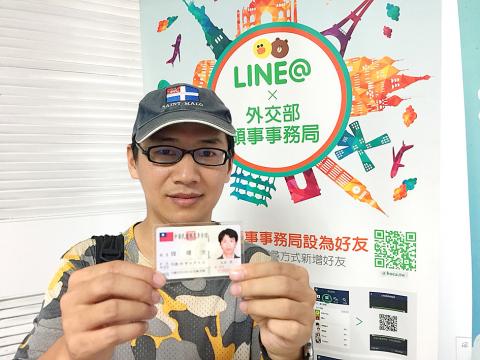 Former Chinese citizen Zhou Shuguang holds up his Republic of China identification card in Hualien County yesterday.
Photo: Wang Chun-chi, Taipei Times
An information technology engineer by profession, Zhou was born in 1981 in China's Hunan Province, and gained renown as an independent journalist when he used his blog as a platform to publish stories on Beijing's land appropriations, suppression of freedom of speech and oppression of ethnic minorities.
In 2008, he covered unrest in Tibet, riots in Guizhou and a politically motivated knife attack in Shanghai, for which he was arrested and detained without charges.
Zhou said that his activism attracted the attention of the Chinese government, and that he was frequently ordered by the security services to present himself at their offices for questioning.
"They often asked me where I had gone, whom I had seen and why I had seen them. My life was being monitored and they had even cut my telephone line," he said yesterday. "During the Olympics, I was put under house arrest to prevent me from going out or reporting on anything."
In 2009, he was prevented by the police from organizing a conference in Beijing on the anniversary of the massacre, Zhou said, adding that they expelled him from the city and barred him from attending any events related to the massacre.
He took a photograph of the Great Wall of China and posted it online — it became a symbol of defiance to state censorship, he said.
Observing Taiwanese politics since his immigration, Zhou has found the elitism of the Chinese Nationalist Party (KMT) to resemble that of the Chinese Communist Party, he said.
The Democratic Progressive Party, which originally branded itself as being close to the people, has become less daring since becoming the ruling party, he added.
After being a Taiwanese resident for 10 years — an eligibility requirement for public office — he would like to run for borough warden, Zhou said.
"It would be interesting to experience Taiwanese democracy as a political candidate," he said.
Comments will be moderated. Keep comments relevant to the article. Remarks containing abusive and obscene language, personal attacks of any kind or promotion will be removed and the user banned. Final decision will be at the discretion of the Taipei Times.