Pingtung revamps traffic lights to give couple baby
Pingtung County's creative spin on pedestrian crossing lights has taken off as the county government yesterday launched an update to its animated traffic signs, known as the "little green man," to celebrate Mother's Day on Sunday.
The county in December last year started accepting bids for a new design for the iconic green man.
The initial version that was accepted by the county showed the little green man walking across the screen with his girlfriend on his arm when the light is green, and he proposes to her during red lights, the Pingtung County Police Station said.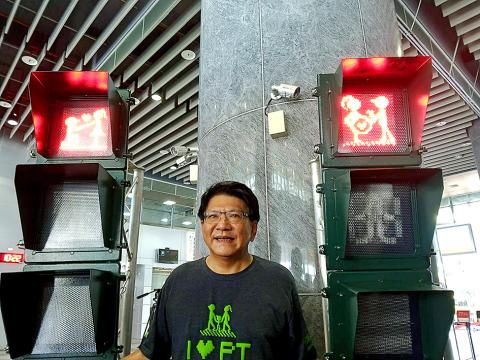 Pingtung County Commissioner Pan Meng-an poses next to pedestrian crossing lights used in the county in an undated photograph. The one on the left features a man proposing to a woman and was introduced in February. The one on the right features a husband and his pregnant wife.
Photo: CNA
The updated version shows the "couple" expecting a child during red lights, and a family of three walks across the screen when the light turns green, it said.
The new version would appear on 37 walking signals, bringing the total number of traffic lights with creative animations to 76, including 39 devices that display the proposal version, the county said.
The update was made to increase traffic safety awareness, and to add warmth to the city, Pingtung County Commissioner Pan Men-an (潘孟安) said.
The creative lights have drawn the attention of local and foreign tourists, and they promote the city, Pan said, adding that the county would continue to update the animations.
The county has also made a short film showing the process of creating the animated traffic lights and plans to submit it to the Cannes Lions International Festival of Creativity, which is to be held from June 18 to June 22, with the aim of attracting more international attention to Taiwan.
The county is also holding a raffle event offering 40 pairs of T-shirts to 20 groups of winners, the county government said.
People who want to enter the raffle can do so by posting a family photograph on the county government's Facebook page, it added.
Comments will be moderated. Keep comments relevant to the article. Remarks containing abusive and obscene language, personal attacks of any kind or promotion will be removed and the user banned. Final decision will be at the discretion of the Taipei Times.