Biologist Frommer given Tsungming Tu Award
Minister of Science and Technology Chen Liang-gee (陳良基) yesterday presented German plant molecular biologist Wolf Frommer with the 11th Tsungming Tu Award, the nation's highest academic honor for foreign researchers, at a ceremony at Academia Sinica in Taipei.
The award — named after Tu Tsung-ming (杜聰明) — who in 1922 became the first Taiwanese to earn a doctorate and later founded Kaohsiung Medical University — was established in 2006.
Frommer, who was recommended by Academia Sinica's Agricultural Biotechnology Research Center, is the sole winner this year.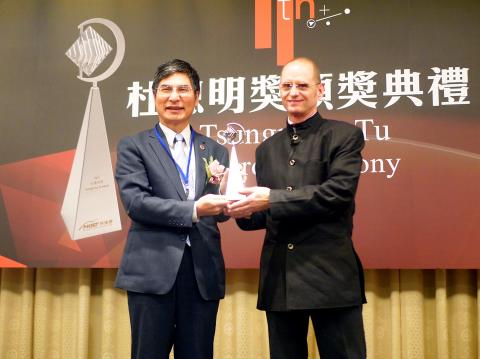 Minister of Science and Technology Chen Liang-gee, left, yesterday presents German plant biologist Wolf Frommer with the 11th Tsungming Tu Award at a ceremony at the Academia Sinica in Taipei.
Photo: Chien Hui-ju, Taipei Times
Winners of the award receive US$75,000, the ministry said, noting that 16 German academics have received the award since 2007.
Frommer previously served as an adviser to Academia Sinica's Institute of Plant and Microbial Biology, and it expects to continue to collaborate with him, Academia Sinica Vice President Liu Fu-tong (劉扶東) said.
The 60-year-old Frommer, a member of Leopoldina, the German National Academy of Science, and a professor at Stanford University since 2003, is best known for his discovery of the so-called SWEET proteins that are related to sugar transportation in plant cells and his studies on fluorescent biosensors.
He returned to Germany in April last year to take up an Alexander von Humbolt professorship at Heinrich Heine University Dusseldorf, where he heads the Institute of Molecular Physiology.
In his speech at the ceremony, Frommer discussed water and food shortages around the world.
While such shortages are aggravated by climate change, it is "weird" that some people, especially in the US, say there is no such thing as climate change, he said, flashing a photograph of US President Donald Trump during his slide presentation.
To remedy food shortages and boost agricultural production, governments should allocate more funding to fundamental research on plant biology and promote "rational" engineering, he said.
Comments will be moderated. Keep comments relevant to the article. Remarks containing abusive and obscene language, personal attacks of any kind or promotion will be removed and the user banned. Final decision will be at the discretion of the Taipei Times.