Legislators, soccer players blast CTFA over rule change
Lawmakers and athletes yesterday criticized the Chinese Taipei Football Association (CTFA) for changing a rule on the military service requirement for players, which they said would disrupt soccer players' development and deal a damaging blow to their career.
The CTFA must rescind the new regulation because it violates players' rights, with 12 top-level players being affected, Democratic Progressive Party (DPP) legislators Liu Shyh-fang (劉世芳) and Hsu Chih-chieh (許智傑) said at a news conference.
According to Sports Administration regulations, Taiwanese soccer players who have participated in the Asian Zone competition for World Cup qualifiers and other major international tournaments are eligible for a short 12-day alternative military service in lieu of the one-year mandatory military service, Liu said.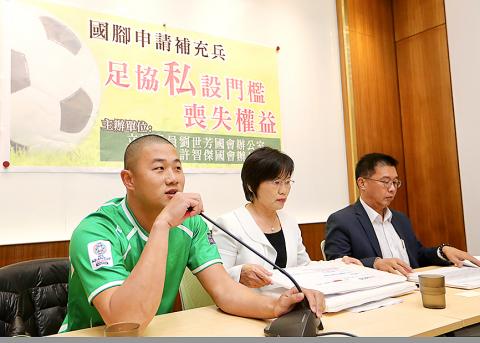 Soccer player Pan Wen-chieh, left, is accompanied by Democratic Progressive Party legislators Liu Shyh-fang, center, and Hsu Chih-chieh yesterday at a news conference at the Legislative Yuan in Taipei in which he accused the Chinese Taipei Football Association of violating the law by changing the requirements for allowing players to do alternative military service.
Photo: Huang Yao-cheng, Taipei Times
However, the CTFA last year added a requirement that only athletes who have professional contracts with foreign clubs are eligible for the 12-day alternative service, Liu said.
Pan Wen-chieh (潘文傑), starting goalkeeper for the national team and Taipei Tatung FC, said that if the dispute over the military service issue is not addressed, he would lose a whole year of his career, which would negatively affect his training and preparation for international competitions.
"We all have seen Pan Wen-chieh's outstanding performance at recent international games. He was one of the main reasons that Team Taiwan picked up a string of victories and raised our nation's world ranking to 121st place," Liu said.
Fans and soccer officials have credited Pan's performances as among the keys to the success the team has enjoyed under British head coach Gary White, who had depended on Pan as the starting goalie for Team Taiwan throughout the past year.
The CTFA had made an arbitrary change, which has no legal basis, Hsu said, urging the Sports Administration to investigate the issue.
Aside from Pan, there are 11 others who have played for Team Taiwan in the Asian Zone qualifiers for World Cup finals or at the Universiade Games last year or in 2015, who might be affected by the rule change, he said.
"For the one-year [military] service, I would have to report to the National Sports Training Center in Kaohsiung and be a 'trainee athlete' under the control of sports agency officials," Pan said. "This would disrupt my playing career for one year and negatively affect my training and development, for which I might lose my status as the starting goalkeeper for the national team."
"This is because if I go to the training center, I would be the only goalkeeper there. I cannot develop my goalkeeping skills on my own and they do not have the coaching staff for my specific training regimen," he added.
Although some of his national squad teammates, such as Chen Po-liang (陳柏良) and Wen Chih-hao (溫智豪), play for professional clubs in China, Pan said it is nearly impossible for him to play in other countries, and this is a big disadvantage for him compared with other players.
"In China, all the club goalkeepers are Chinese nationals. They do not hire foreigners for this position, because they want to protect the vital goalkeeping position for their own players and to develop them for their national team," Pan said.
"It is the same for Japan, South Korea and other Asian countries: They do not want foreigners as goalkeepers at any club level. For many coaches, goalkeepers are among the most important position on a team, because, as they say, it can spell the difference between victory and defeat," he said.
Comments will be moderated. Keep comments relevant to the article. Remarks containing abusive and obscene language, personal attacks of any kind or promotion will be removed and the user banned. Final decision will be at the discretion of the Taipei Times.