KMT urges Wu Maw-kuen probe
Academia Sinica member Wu Maw-kuen (吳茂昆), who is to take office as minister of education tomorrow, has worked as an adviser at the Chinese Academy of Sciences and another government-funded research institution in China, two Chinese Nationalist Party (KMT) members said yesterday.
The academy's Institute of High Energy Physics listed Wu as an adviser to its superconductor research team on its Web site, KMT member Yu Shu-hui (游淑慧) said on Facebook.
According the Web site, the team holds a meeting every three months and Wu is responsible for reviewing progress and coordinating work between different groups, Yu said.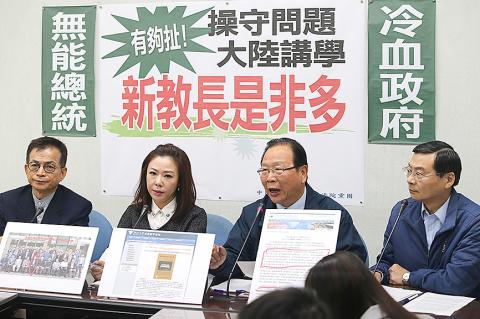 Chinese Nationalist Party (KMT) caucus secretary-general Lee Yen-hsiu, second left, KMT caucus whip Lin Te-fu, second right, and other party officials hold a news conference at the Legislative Yuan in Taipei yesterday.
Photo: CNA
The role has clearly defined duties and appears to be a formal part-time position, she said, adding that since the academy is a research institution funded directly by the Chinese State Council, working for it is "far more serious" than working at a university in China.
Wu might also have had US citizenship when he served as National Science Council minister in 2004 and National Dong Hwa University (NDHU) president in 2012, which would have been illegal, she said.
Meanwhile, KMT Culture and Communications Committee deputy director-general Hung Meng-kai (洪孟楷) accused Wu of having served as a member of an advisory committee under the Beijing-funded China Center of Advanced Science and Technology World Laboratory since 2010, overlapping with Wu's term as NDHU president.
Information about his advisory post on the laboratory's Web site suddenly disappeared last month, he said.
The Taipei District Prosecutors' Office, which is investigating claims about National Taiwan University (NTU) president-elect Kuan Chung-ming (管中閔) illegally teaching in China as a government-contracted professor, should use the same standards and also investigate Wu, KMT caucus deputy secretary-general William Tseng (曾銘宗) said.
Wu yesterday denied the allegations, saying Academia Sinica signed a research agreement with the Chinese Academy of Sciences in 2008 which allows their members to collaborate on research projects.
"My work at the Chinese Academy of Sciences was restricted to talks and other short-term academic activities," he said in a statement.
He no longer attends the meetings and has never agreed to take up any formal position at the institution, he said, adding that his activities in China were all in line with the regulations.
Academia Sinica later confirmed that the two institutions signed memorandums of understanding in 2008 and last year allowing their members to consult each other and conduct academic exchanges.
While Article 33 of the Act Governing Relations Between the People of the Taiwan Area and the Mainland Area (兩岸人民關係條例) bans Taiwanese from working at government institutions in China, the Mainland Affairs Council yesterday said that Wu's case might not be illegal, because honorary and consulting positions that do not require regular attendance are not considered formal work.
Meanwhile, the KMT caucus called on Wu to promise that his perceived hardline stance in support of Taiwanese independence would not affect his work as minister.
Wu, who in 2013 said that Taiwan and China have a "state-to-state relationship," should assure the public that he would not serve as Premier William Lai's (賴清德) minion in Lai's "plans to push for independence by inculcating Taiwanese independence in education," KMT caucus secretary-general Lee Yen-hsiu (李彥秀) said, with reference to the premier's remark that he is a "political worker who advocates Taiwanese independence."
Wu on Monday was named to succeed former minister of education Pan Wen-chung (潘文忠), who resigned last week amid controversy surrounding his alleged interference in Kuan's appointment.
Kuan was elected NTU president on Jan. 5 and was originally scheduled to take office in February.
His appointment has been delayed after he was accused of a conflict of interest, plagiarism and having illegally worked at a university in China.
Additional reporting by Shih Hsiao-kuang and Sean Lin
Comments will be moderated. Keep comments relevant to the article. Remarks containing abusive and obscene language, personal attacks of any kind or promotion will be removed and the user banned. Final decision will be at the discretion of the Taipei Times.