FEATURE: Movie theater shuts down after 59 years
FINAL CURTAIN: A promotional event to revive old cinemas boosted viewer numbers for a while, but it was not enough to save the decades-old establishment
A movie theater in Miaoli County's Toufen City (頭份) on March 1 closed down after 59 years of operation due to fierce competition from large cinema complexes.
Hsu Lin-pin (徐琳彬), the owner of Tung Sheng Theater, said that he saw a huge crowd at a movie theater in Miaoli City when he was 15 and decided to pursue a career in the movie theater business.
Two years later, he became an apprentice at a Taiwan Cinemas branch in Taipei's Ximending (西門町) area, where he learned everything he needed to know about movie theater operations, Hsu said.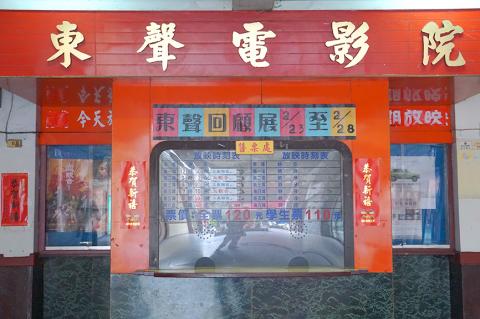 The ticket office of Tung Sheng Theater, which closed on March 1 after 59 years of operation, is pictured in Miaoli County's Toufen City on March 2.
Photo: Ho Tsung-han, Taipei Times
At the time, an imported movie projector cost more than NT$100,000, so he bought a second-hand projector from a Taipei movie theater for NT$30,000, repaired it and took it to Miaoli, Hsu said.
There were 30 theaters in Miaoli County in 1949, but only one of them showed movies, while the rest of them performed gezaixi (歌仔戲), a form of traditional Taiwanese opera.
Hsu said he traveled to the county's townships to expand the market for movies.
In the early days, projectors did not have motors and had to be operated by a hand crank, Hsu said.
He hired five people — one for advertising on the streets, two for projecting the movies, one for ticket sales and one for collecting the tickets, he said.
Hsu said he was responsible for traveling to and from Taipei to deliver the films.
Expanding the market was difficult, Hsu said, adding that for five to six years, he worked until 10pm every day and waited for the technician to disassemble the projector before transporting the machine to the next township overnight.
Hsu said he became the leading expert in Miaoli's film circle and movie theater owners paid him to teach them how to operate their projectors.
In 1959, Chiang Chi-pao (江基寶) asked Hsu to operate Hsin Sheng Theater in Toufen.
Chiang in 1985 sold the theater and Hsu in 1989 bought a floor in the building to replace the theater with the two-hall Tung Sheng Theater.
Now 88 years old, Hsu said he misses the "golden age" of cinema during the 1960s and 1970s, when The Love Eterne (梁山伯與祝英台) and wuxia (武俠, "martial arts") films by Hong Kong film production company Shaw Brothers were popular.
There were 70 to 80 film companies in Ximending alone during the time and you would meet movie stars on your way to purchase movies, Hsu said.
Art films did well in Taipei's theaters and continued to do well after running in cinemas for two to three months, but no one in the countryside wanted to see them, Hsu said.
People in rural areas did not understand art films, but enjoyed the action in wuxia movies, he said.
He would specifically choose films that had done well in the box office in Taipei, Hsu said, adding that Titanic sold out for 39 consecutive days.
He met his wife, Tang Sung-mei (湯松妹), through movies, too, Hsu said.
After the theater's projection equipment and operations were digitalized, he let the staff go and continued running the business with Tang. They projected movies almost all year round, Hsu said.
Even though their business was affected by television, video tapes, pirated copies of films and the Internet, Hsu and Tang said they insisted on continuing "even if there was only one customer at their door."
However, the entrance of large cinema complexes into the local market greatly influenced their business.
"Our two sons said they wanted to take us traveling overseas while we can still walk," the couple said.
Inspired by Hsu and Tang, Miaoli County Councilor Chen Kuang-hsuan (陳光軒) has over the past five years organized six events promoting the revival of old movie theaters.
At one point, 30 percent of customers returned, but after Vie Show Cinemas opened a branch in Toufen's Shang Shun World mall, sales plunged, Hsu said.
On Feb. 25, Tung Sheng Theater held its final event to revive old movie theaters.
Half of Toufen's population used to work at Hualon Corp's (華隆) textile factory, and between the 1960s and the 1980s the factory would organize film screenings for its employees, said writer Chang tien-wan (張典婉), who attended the event.
When he was young, his entire family would go to the movies together, said writer Kao Yi-feng (高翊峰), who took his son to the event.
"It was like celebrating the Lunar New Year — our best moments were at the movie theater," Kao said.
New movie theaters do not have the atmosphere that old movie theaters had, he added.
After Tung Sheng Theater closed, Hsu gave the film projector to Chen.
Toufen City Mayor Hsu Ting-chen (徐定禎) said he hopes to take over the digital film projector and allow Hsu to hold public movie screenings.
Comments will be moderated. Keep comments relevant to the article. Remarks containing abusive and obscene language, personal attacks of any kind or promotion will be removed and the user banned. Final decision will be at the discretion of the Taipei Times.