Ministry orders NTU to clarify election scandal
Following a conflict-of-interest controversy surrounding the election of National Taiwan University (NTU) president-elect Kuan Chung-ming (管中閔), the Ministry of Education yesterday said it has again ordered the university to clarify the matter following requests from the Control Yuan and lawmakers.
A 21-member committee elected Kuan on Jan. 5. However, it was later revealed that Kuan was an independent director of Taiwan Mobile and company vice chairman Richard Tsai (蔡明興) was a committee member.
Kuan failed to disclose his connection with Tsai prior to the election, and Tsai did not recuse himself from the election.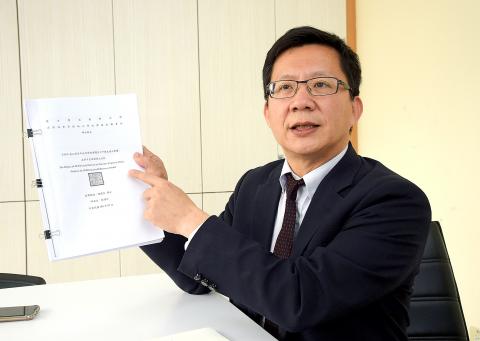 Democratic Progressive Party Legislator Chang Liao Wan-chien yesterday holds up a copy of a master's thesis during an interview in Taipei as he says that National Taiwan University president-elect Kuan Chung-ming had been involved in plagiarism.
Photo: Huang Yao-cheng, Taipei Times
The alleged conflict of interest prompted the Democratic Progressive Party caucus to issue a resolution yesterday demanding that the ministry "halt the appointment until the questionable [practice] involved in the selection of NTU's president is investigated."
Kuan is scheduled to take office on Thursday next week.
Asked if Kuan's inauguration might be delayed, Department of Personnel Director Chen Kun-yuan (陳焜元) said the ministry "does not want any delay in the [inauguration] process and NTU has been urged to make an immediate response."
The ministry has a standard procedure to deal with the controversial election of university presidents, he said.
That procedure was followed after the election in October last year of National Yang-Ming University president Steve Kuo (郭旭崧), whose eligibility was questioned as he was an associate professor instead of a professor, Chen said, adding that the university was asked to clarify the eligibility criteria and selection process.
Ordered by the ministry earlier this month to clarify the situation, the NTU committee on Jan. 11 said no rules were broken in the election.
As the Control Yuan on Monday ordered the ministry to probe the scandal, it has reissued the order to the committee.
"NTU has to respond to the issue in an appropriate manner," Chen said.
Committee spokeswoman Yuan Hsiao-wei (袁孝維) reiterated the Jan. 11 statement, saying that there was no condition that would disqualify Tsai as a committee member.
As a secret ballot was used for the election, comments about committee members' votes were purely conjecture, Yuan said.
Comments will be moderated. Keep comments relevant to the article. Remarks containing abusive and obscene language, personal attacks of any kind or promotion will be removed and the user banned. Final decision will be at the discretion of the Taipei Times.