Road deaths, injuries on the rise, to top 400,000 this year
More than 400,000 people were killed or injured in traffic incidents each year from 2014 to last year, a National Road Traffic Safety Commission report said on Wednesday.
Deaths and injuries caused by traffic incidents have generally risen over the past 10 years, the report said.
While 2013 saw about 375,000 deaths and injuries from traffic incidents, there were more than 400,000 in 2014, 2015 and last year.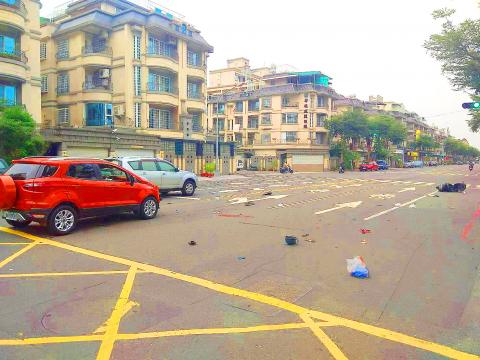 A scooter lies on the road after crashing into a car in Kaohsiung's Fongshan District yesterday afternoon. The scooter driver, surnamed Ting, sustained serious injuries and was transported to hospital.
Photo: copy by Chen Wen-chan, Taipei Times
This year, the number is again expected to hit 400,000, more than Keelung's population of 370,000, the report added.
The number of people who died within 30 days after an incident has declined over the past decade, the commission said.
However, in the past few years, an average of 3,000 people died within 30 days of an incident each year, more than the number of deaths from the 921 Earthquake, it added.
The Ministry of Transportation and Communications has set a goal of reducing 30-day traffic-related fatalities from 3,000 this year to 2,500 in 2019.
Minister of Transportation and Communications Hochen Tan (賀陳旦) said the ministry's campaign has generated some results, adding that the nation has also introduced stricter punishments for traffic violations.
"However, it is still heartbreaking to hear reports of some people driving around Taiwan in eight hours," as such behavior demonstrates a disregard for the safety of others on the road, he said.
The nation still has work to do to improve traffic conditions, Hochen said, adding that people should consider road safety part of their responsibility.
Efforts to improve road safety should be made one of the indicators to evaluate the competitiveness of a municipality, he added.
(The headline has been corrected since publication.)
Comments will be moderated. Keep comments relevant to the article. Remarks containing abusive and obscene language, personal attacks of any kind or promotion will be removed and the user banned. Final decision will be at the discretion of the Taipei Times.