Residents urge cancelation of Shuangsi reservoir plan
Dozens of residents of New Taipei City's Shuangsi District (雙溪) yesterday called on the government to cancel construction of the Shuangsi Reservoir (雙溪水庫), saying that it should instead focus on managing rich water resources in the nation's northeast.
The Environmental Protection Administration (EPA) in 1996 announced that the reservoir construction project would undergo a second-stage environmental impact assessment.
However, due to local residents' strong opposition, the project's developer, the Water Resources Agency, did not begin the EPA's subsequent review procedure until 2013, when the EPA required the agency to submit more analyses about water storage and rainwater recycling.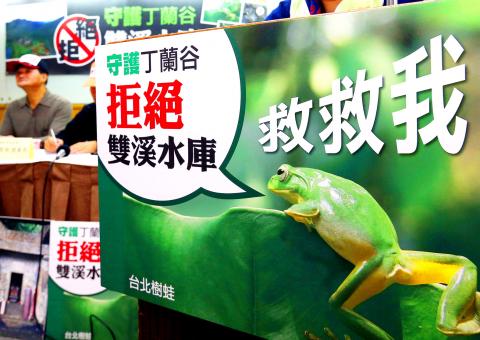 A placard featuring an emerald-green tree frog calling for opposition to the Shuangsi Reservoir construction project in New Taipei City is displayed at a news conference in Taipei yesterday.
Photo: CNA
The project has become part of the government's Forward-looking Infrastructure Development Program, which launched this year.
The Shuangsi Reservoir would solve the water shortage problem in the northeast, where Keelung's Sinshan Reservoir (新山水庫) and Sishih Reservoir (西勢水庫) are unable to supply adjacent areas with sufficient water, the agency said.
According to the agency's plan, the Shuangsi Reservoir would draw water from the Dingzihlan River (丁子蘭溪) in Shuangsi and would have a storage capacity of 17 million cubic meters.
At a news conference in Taipei yesterday, local residents and environmentalists questioned the necessity of the project.
Instead of building a reservoir that would cost about NT$12 billion (US$400 million), the government should prioritize water storage and pipe leakage prevention efforts, local resident Lin Tseng Wen-yan (林曾文彥) said, adding that the local tap water system leaks about 30 percent of its water.
The government should promote rainwater collection and complete the construction of sewage disposal systems in Shuangsi, Pingsi (平溪), Gongliao (貢寮) and Rueifang (瑞芳) districts, Keelung River Protection Alliance convener Chen Chien-chih (陳建志) said, adding that the reservoir project might only benefit a few people in civil engineering circles.
Water shortage is only an excuse, otherwise the project would not have been postponed for about 20 years, Environmental Rights Foundation lawyer Chen Hsien-cheng (陳憲政) said.
The analyses required by the EPA's Environmental Impact Assessment Committee in 1996 are now outdated, Chen Hsien-cheng said, adding that the agency should employ cutting-edge hydraulic engineering techniques to improve the local water supply system.
The Dingzihlan River basin is home to many protected species, such as Swinhoe's pheasant and the emerald-green tree frog, Chinese Wild Bird Federation member Lu Yi-wei (呂翊維) said, adding that the government should not sacrifice wildlife habitats for a small reservoir.
The committee is to conduct a field examination on the planned site and hold a public hearing in Shuangsi on Friday next week.
Comments will be moderated. Keep comments relevant to the article. Remarks containing abusive and obscene language, personal attacks of any kind or promotion will be removed and the user banned. Final decision will be at the discretion of the Taipei Times.