Taichung lights giant tree on its restored waterfront
Saturday night saw the lighting of Taiwan's first Christmas tree on water by Taichung Mayor Lin Chia-lung (林佳龍) on the waterfront of his city's Willow River (柳川).
The city this year moved its annual Christmas festival, which was previously held on the New City Hall Plaza, to the riverside.
A popular attraction in Taichung, the river was reopened on Christmas Eve last year after the completion of a renewal project.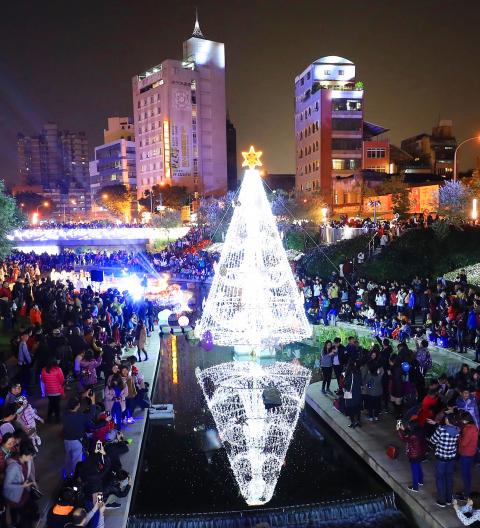 People admire a Christmas tree and its reflection by the Willow River in Taichung on Saturday.
Photo: Huang Chung-shan, Taipei Times
The Willow River used to be severely polluted with industrial waste, became a dirty ditch and was often criticized by local residents, Lin said.
After improvements by the city, the river has taken on a brand new look and become the city's most popular check-in location on Facebook, Lin said.
The Christmas tree is 9m high, the city government said, adding that the tree's design was based on the imagery of an overflowing river and incorporates images from the World Flora Exposition, which is to be held in Taichung next year.
The waterfront also features interactive art, including shadow play and 3D "flower seas."
The lighting exhibition, which also opened on Saturday, uses LED lights to decorate the waterfront with different shapes — including a large gift box, tulips and roses — and a light-tunnel under a bridge.
The lighting exhibition will be on view until March 4, the city government said.
At the lighting ceremony, Lin also made two announcements.
Lin said the city has received funding from the central government for the second phase of the Willow River renewal project, which is to begin next year and would preserve the beauty of the waterfront.
Lin also said the renovation of the 800m Green River (綠川) is to be completed by February.
The rivers will make Taichung beautiful again and the old town area will shine like never before, Lin said.
Comments will be moderated. Keep comments relevant to the article. Remarks containing abusive and obscene language, personal attacks of any kind or promotion will be removed and the user banned. Final decision will be at the discretion of the Taipei Times.