Fire prompts Ko to tackle issue of illegal structures
WIDESPREAD: A fire on Tuesday night that killed one person brought renewed attention to the proliferation of illegal rooftop units and subdivision of apartments
In the wake of a deadly fire on Tuesday night, Taipei Mayor Ko Wen-je (柯文哲) yesterday said he is prepared to tackle an issue that defeated some of his predecessors, including former president Chen Shui-bian (陳水扁): demolishing illegal rooftop structures and building modifications.
Ko told reporters that he was considering abolishing Chen's administrative order that allowed illegal structures or modifications erected before 1995 to be registered with the city government and temporarily exempted them from demolition.
Most illegal structures in Taipei predate Dec. 31, 1994, he said, adding: "I think it is inappropriate for every mayor to keep saying that illegal cases that occurred before he took office can be allowed to circumvent regulations. So, I am considering nullifying the 'special pardon' granted by Chen."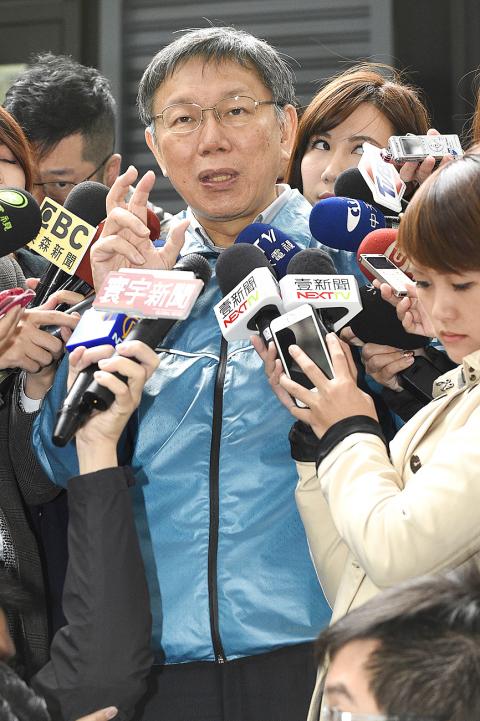 Taipei Mayor Ko Wen-je yesterday talks to reporters following the city's award ceremony honoring this year's outstanding citizens.
Photio: Chen Chih-chu, Taipei Times
Chen took office as Taipei mayor on Dec. 24, 1994.
Asked when he would announce the lifting the special pardon, Ko said the issue requires more discussion and would refer to bylaws for dealing with existing illegal constructions that are being drafted by the Ministry of the Interior.
However, illegal structures built in 1995 or later would be classified into three groups, with those that are considered major illegal structures or that pose a grave danger to the public to be demolished first, he said.
Public safety issues highlighted by recent fires must addressed, he added.
Tuesday night's fire in a five-story apartment building on Bade Road killed one resident and injured another.
An initial police investigation indicated that the fire was likely caused by an induction stove explosion on the fourth floor, with the blaze quickly spreading to an illegal rooftop addition.
The fourth and fifth floor apartments are owned by the same landlord, who rented them to a man surnamed Wang (汪), officials said.
Wang illegally partitioned the two apartments, creating 15 units on the fourth floor and seven units on the fifth, which he rented out, they said.
Wang and the tenant who owns the induction stove were taken into custody for manslaughter and endangering public safety.
A contributing factor to the fire was that an illegal rooftop addition above the fifth floor was exempted from demolition, Ko said, adding that illegal modifications to the fourth floor were never reported.
"Honestly, if people have not formed the habit of obeying the law, it will be very difficult for the government to discover what illegal modifications they have made to their homes," he said.
Taipei Department of Urban Development Commissioner Lin Jou-min (林洲民) said the apartment building and the illegal rooftop structure were built before Dec. 31, 1994, and therefore exempted from demolition under current regulations.
The compartmentalization of the two apartments had not been reported, he said.
"There are about 25,000 existing illegal structures on record that are exempted from demolition citywide," Lin said, adding that Ko had ordered officials to address the safety of housing units similar to those in the Bade Road building.
Lin quoted Ko as saying that city departments should work together to identify and report any illegal structure with more than three rooms by conducting daily inspections and that an application procedure should be introduced to require homeowners to obtain a permit before they are allowed to carry out internal modifications to their properties.
Taipei Construction Management Office official Chang Ming-sen (張明森) said the office already requires owners of illegal structures to install fire alarms.
As about 67 percent of illegal structures have complied, those that do not have fire alarms would be prioritized for demolition, he said.
This is not the first time Ko has focused on illegal rooftop structures and building modifications.
In April 2015, he warned city residents that he would do all he could to stop new illegal structures from being built, but admitted that it would be difficult to retroactively tackle illegal constructions.
Additional reporting by staff writer
Comments will be moderated. Keep comments relevant to the article. Remarks containing abusive and obscene language, personal attacks of any kind or promotion will be removed and the user banned. Final decision will be at the discretion of the Taipei Times.