Relations with Dominican Republic stabilized: MOFA
Diplomatic ties with the Dominican Republic have stabilized following a series of two-way high level official visits over the past month, the Ministry of Foreign Affairs said yesterday.
Fielding questions during an Oct. 18 legislative hearing, Minister of Foreign Affairs David Lee (李大維) said the ministry had sought to stabilize relations for some time amid warnings that the Caribbean ally could be moving closer to Beijing.
At the hearing, Chinese Nationalist Party (KMT) Legislator Johnny Chiang (江啟臣) pointed to signs that the Dominican Republic could switch its allegiance from Taipei to Beijing.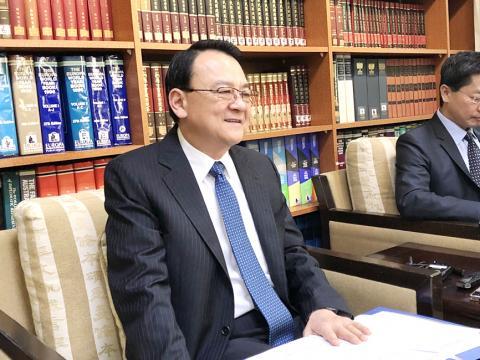 Ministry of Foreign Affairs Department of Latin American and Caribbean Affairs head Diego Chou yesterday attends a news conference at the ministry in Taipei.
Photo: Lu Yi-hsuan, Taipei Times
Lee visited the Caribbean ally in July and Vice Minister of Foreign Affairs Jose Maria Liu (劉德立) went there in August and late last month to further strengthen ties, he said at the hearing.
Department of Latin American and Caribbean Affairs head Diego Chou (周麟) yesterday said that ties have stabilized after Liu's visits.
"During the last trip, Liu confirmed several bilateral cooperation projects and representatives from both sides were pleased with bilateral developments," Chou said.
Following Liu's last visit, Dominican Minister of Defense Lieutenant General Ruben Dario Paulino Sem met with President Tsai Ing-wen (蔡英文) at the Presidential Office Building on Oct. 23, indicating that the reported crisis has been solved and bilateral ties stabilized, he added.
Chou said that the ministry and the embassy in the Dominican Republic had indeed heard rumors that Beijing was offering the ally "billions of US dollars" to ditch Taiwan in favor of China.
However, Chou said these were just rumors rather than concrete proposals, as Beijing sought to appeal to Dominican officials who are unfamiliar with such practices.
Chou also said that Taiwan donated a number of decommissioned Humvees and military helicopters to the Dominican Republic when Minister of National Defense Feng Shih-kuan (馮世寬) visited on Oct. 27.
"The military made the donation as humanitarian assistance and a gesture of goodwill," he said.
However, local media have questioned the decision, saying it was a waste of money and that it undermines Taiwan's defense capabilities.
Comments will be moderated. Keep comments relevant to the article. Remarks containing abusive and obscene language, personal attacks of any kind or promotion will be removed and the user banned. Final decision will be at the discretion of the Taipei Times.