Taiwanese, Han Chinese ethnically distinct: expert
Taiwanese should be considered ethnically distinct from Han Chinese, as a majority are more closely related to Aboriginal Austronesians and Pacific islanders, Taiwan's leading hematologist and medical anthropology researcher said on Saturday.
Marie Lin (林媽利) made the comment at a book launch party for her biography, where colleagues and friends presented her with bouquets and a birthday cake to mark her turning 80 this year.
Decades of research using molecular technology to analyze human DNA and genetic markers had convinced her that most Taiwanese, as descendants of lowland Pingpu Aborigines (平埔族群) and highland Aborigines have mixed blood types, and are quite distinct from the genetic characteristics of the two main ethnic groups in China, the northern and southern Han Chinese.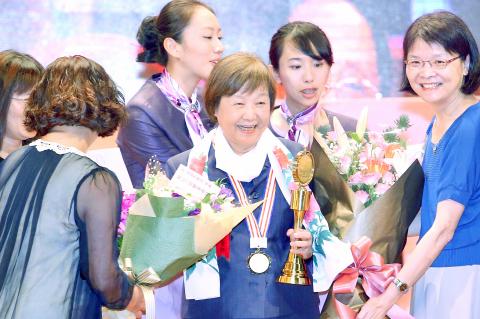 Hematologist Marie Lin smiles as she receives a bouquet, medal and award during a Medical Dedication Award ceremony in Taipei on Sept. 23.
Photo: CNA
Lin is internationally renowned for her pioneering genetic mapping and ethno-demographic studies of Taiwan's population, with more than 150 papers to her credit.
"The main Hoklo Taiwanese and Hakka population in this nation have Pingpu and Aboriginal bloodlines in their ancestry from centuries of intermarriage, and the analysis of DNA and genetic markers reflects this new understanding of the close relationship between Taiwanese and Austronesians and Pacific islanders," she said.
"Through the long history of ethno-cultural evolution on Taiwan, which was isolated from other main population centers, we can consider the result as forming a 'Taiwanese people group,' which is distinct from the Han Chinese people," she said.
Genetic contributions from the Pingpu and Aboriginal bloodlines gave Taiwanese the traits of adventurous ambition, open hospitality to outsiders and a positive, sunny disposition in general, she said.
Lin has served as director of transfusion medicine and molecular anthropology at Mackay Memorial Hospital in Taipei — where she set up the nation's first blood bank — since 2000, and been a professor at National Taiwan University's Institute of Forensic Medicine since 2004.
Comments will be moderated. Keep comments relevant to the article. Remarks containing abusive and obscene language, personal attacks of any kind or promotion will be removed and the user banned. Final decision will be at the discretion of the Taipei Times.