Briton gets 'Taiwan' tattooed on face
ARDENT SUPPORTER: An inebriated expat in Kaohsiung decided to show his support for Taiwanese independence by getting the Chinese characters for 'Taiwan' tattooed on his forehead
A Briton living in Kaohsiung has become the talk of the town after appearing in public yesterday with the Chinese characters for "Taiwan" tattooed on his forehead, saying that he regretted having had it done while intoxicated.
Initial reports said the tattoo was the result of a misunderstanding between the tattooist and a foreigner, who was identified by some media as being British. The Briton reportedly visited a local tattoo shop on Friday after getting drunk and made what he later called a "rash decision."
A tattoo artist posted a photo of the man's face online on Saturday, saying that he came to his shop seeking ways to remove or modify the tattoo.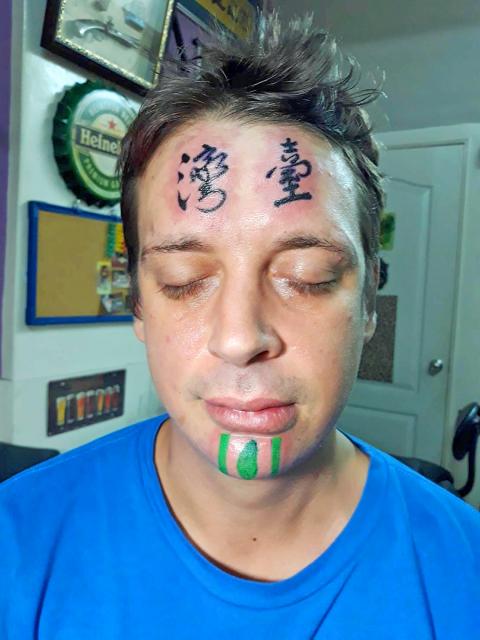 A man shows his face, tattooed on the forehead with the Chinese characters for Taiwan and on the chin with a pro-Taiwan independence flag, in Kaohsiung yesterday.
Photo courtesy of Wei Cheng
Because the tattoo covers a large area, the artist said he did not know how to modify the tattoo and turned to the Internet for help.
The post attracted mixed reactions. Some people criticized the person who tattooed "Taiwan" on the man's forehead for lacking professionalism and ethical conduct.
The Briton was interviewed by reporters yesterday, saying he "felt embarrassed" and that it was a foolish decision that he regretted.
He has reportedly been living in Taiwan for 13 years with his Taiwanese wife and owns a bar in Kaohsiung.
However, the man who has been identified as the one who made the tattoo, Wei Cheng (韋丞), told reporters yesterday that there was no misunderstanding, saying that he had double-checked with the client, but that he had seemed sure about his decision.
"Though reeking of alcohol, the man spoke clearly and answered my questions without ambiguity. We discussed where he wanted to place the two characters before I asked him again, 'Do you really want to tattoo it on your face?' He insisted that was what he wanted," Wei said.
It took him two hours to finish the job, Wei said, adding that the man seemed happy and satisfied with the results.
The Briton said that he was drunk at the time and did not know what he was doing, adding that his wife was furious.
However, he appeared certain of his love for Taiwan.
Speaking in Mandarin with reporters, he said he supports Taiwanese independence and that Taiwan belongs to neither China nor the Republic of China.
He also has a tattoo of a pro-independence flag on his arm — and chin.
Comments will be moderated. Keep comments relevant to the article. Remarks containing abusive and obscene language, personal attacks of any kind or promotion will be removed and the user banned. Final decision will be at the discretion of the Taipei Times.