NPP's Huang denies neglect of duties
'TRUTH DOES NOT FEAR': The lawmaker said that he believes reform will eventually win, and cited his recognition as an 'excellent lawmaker' by Citizen's Congress Watch
Facing threats of a recall campaign that on Friday passed the second-phase threshold, New Power Party (NPP) Executive Chairman Huang Kuo-chang (黃國昌) yesterday said that he did not neglect his legislative duties and urged supporters of reform to vote for him again.
The campaign was initiated in May by the Greater Taipei Stability Power Alliance, a group that opposes same-sex marriage. The Central Election Commission approved the motion in June, after it confirmed the 2,637 signatures submitted by the group.
According to the Civil Servants Election and Recall Act (公職人員選舉罷免法), a recall campaign must obtain signatures from more than 10 percent of the eligible voter population in an official's constituency to pass the second-phase threshold.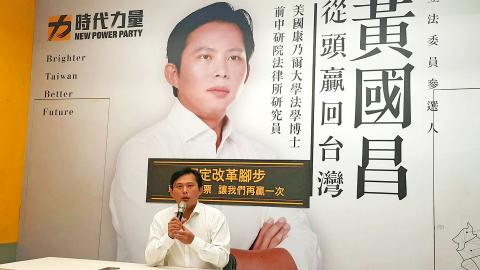 New Power Party Executive Chairman Huang Kuo-chang yesterday speaks at a news conference in New Taipei City.
Photo: CNA
The New Taipei City Election Commission on Friday announced that it had received 26,745 signatures from voters in the city's 12th electoral district, more than the required 25,119 signatures, although the validity of the signatures will need to be verified by the commission before the final result can be announced later this month.
Huang told a news conference at his office in the city's Sijhih District (汐止) that since becoming a legislator last year, he and the NPP have gone all-out to defend the nation's sovereignty, push marriage equality forward, carry out pension reform and investigate scandals involving abuses of privilege.
He said that he has always been conscientious about his duties and puts all his effort behind them, adding that he is confident that the voters in his constituency have seen his performance, and although some people might have been misguided by lies aimed at discrediting him, the truth does not fear contention.
His assessment as an "excellent lawmaker" several times by the legislative watchdog Citizen's Congress Watch is recognition of his team's hard work, Huang said, adding that he feels no guilt in saying that his performance can withstand the test.
"I really feel sorry for my family and thank them for their understanding and support," Huang said.
"Through the process, I have profoundly felt that deep-rooted conservative power and influential officials are still everywhere in Taiwan, obstructing the nation from advancing," he said.
"I deeply believe that reform will eventually win and sunrise will eventually dawn on the island," Huang added, calling on his supporters to again join forces and vote in the upcoming recall election to support him and his belief in reform.
Asked whether he would consider running for New Taipei City mayor next year if he is recalled, Huang said: "As a legislator, my duty is to focus on preparing for questions at the Legislative Yuan."
He said that he places strict demands on himself to be a responsible lawmaker, so he must personally research and draft every bill that he proposes.
Comments will be moderated. Keep comments relevant to the article. Remarks containing abusive and obscene language, personal attacks of any kind or promotion will be removed and the user banned. Final decision will be at the discretion of the Taipei Times.