Fans chide soccer officials for demanding back shirts
'STINGY': After weathering a storm of ridicule, the Chinese Taipei Football Association said it would allow players to take their jerseys home after the sixth Asian Cup qualifier
Sports pundits and fans this week criticized soccer officials after it was revealed that Taiwan players were told to hand back their Team Taiwan jerseys for "safekeeping" in the immediate aftermath of their win over Bahrain earlier this week.
Taiwan fans were delighted on Tuesday when Taiwan rallied in their World Cup qualifier against Bahrain to win the game with two late goals.
However, the controversy over the jerseys gave the win a sour note, with fans saying the Chinese Taipei Football Association (CTFA) was "being stingy," "being narrow-minded" and had made "a stupid decision that riled the players once again."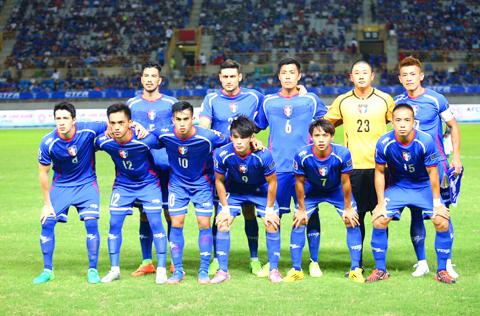 Team Taiwan pose at the Taipei Municipal Stadium on Tuesday before their Asian Cup qualifier match with Bahrain.
Photo: CNA
Democratic Progressive Party Legislator Hsu Chih-chieh (許智傑) questioned Sports Administrative chief Lin Fu-te (林德福) in the legislature on Thursday
"If the CTFA receives NT$80 million [US$2.65 million] each year in government subsidy, why does it not even let players keep their jerseys?" Lin asked.
Lin said that he understood that there was no good reason for officials to request players return their jerseys right after end of the match.
The issue was first raised by soccer broadcaster Max Shih (石明瑾), who was told about the situation by players.
"Was beating Bahrain so great? It was such a historic moment that officials had to collect the game shirts back... I do not understand what kind of strange fetish that is," Shih wrote online.
He also addressed CTFA officials directly.
"Would it kill you if players get to keep the jersey?" Shih wrote.
The request to hand back their jerseys displeased players, who battled all the way through the match and put in an outstanding performance, handing Team Taiwan's newly appointed manager, Gary White, his first competitive victory in Taiwan.
The Taipei Municipal Stadium on Tuesday rocked for more than 20 minutes after the late winning goals, as more than 8,000 spectators enjoyed a prolonged celebration after the whistle and the national squad paced around the field thanking the fans, with several players pulling off their jerseys to toss them to fans.
"Before the game, no one told us that our jerseys were to be handed back. During the celebration after the match, I gave mine to a fan," midfielder Wen Chih-hao (溫智豪) said.
"It was a happy occasion, as we had won the match. I think the CTFA should not be so calculating regarding the cost of one or two jerseys," Wen said. "It was not just me, but other players also tossed their jerseys as gift for fans. I think it was inappropriate for officials to request us to hand them back, because it is a dream for players to suit up for the national team and we would like to keep our jerseys as personal souvenirs, or give it to family members or friends."
The CTFA initially said that that the cost would be too high if players were to hold on to their jerseys and new ones had to be ordered for each match.
However, after the public criticism, CTFA officials yesterday changed their stance, saying players could keep their outfits and the jerseys would be given to the players after they complete all six Asian Cup qualifier matches.
Comments will be moderated. Keep comments relevant to the article. Remarks containing abusive and obscene language, personal attacks of any kind or promotion will be removed and the user banned. Final decision will be at the discretion of the Taipei Times.