Lanyu residents demand removal of nuclear waste
Young Aborigines on Orchid Island (Lanyu, 蘭嶼) yesterday protested for a clear deadline for the removal of nuclear waste from the island.
Raising flags on the island, the campaigners said they would not accept an apology from the government and would not accept further delays for removal of the waste material.
The Orchid Island Youth Movement Alliance, which organized the protest, said that since President Tsai Ing-wen's (蔡英文) apology last year to Aborigines for historical injustices, no action has yet been taken on the issue of nuclear waste on Orchid Island — where more than 90 percent of residents are Tao.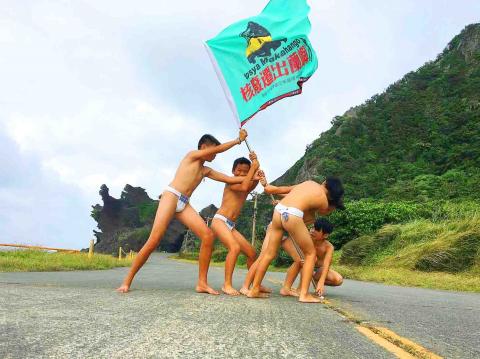 Taos of the Orchid Island Youth Movement Alliance yesterday raise a flag calling for the removal of nuclear waste from the island.
Photo courtesy of Yen Tzu-yu
The Lanyu nuclear waste storage facility was built in 1982 and stopped processing nuclear waste in 1996.
In February, the government reiterated its promise to relocate waste on the island and panned several potential sites including uninhabited islands near Keelung, as well as Kinmen, Penghu and Matsu counties.
Chanting slogans outside the waste facility, campaigners demanded that the government take concrete action and clarify a timetable for when waste relocation would be completed.
"We are not interested in empty promises or in talking things over," one campaigner said.
Another said they are concerned that the issue is being overlooked by society and that they hoped to draw people's attention to the issue.
"We demand that the government deal with this issue immediately," they said.
The alliance said the storage of the waste on the island constitutes an illegal act by Taiwan Power Co.
The company had leased the space for waste storage, but that lease expired in 2014, the alliance said, adding that the township would not continue the lease.
Many of the island's residents participated in yesterday's protest, with others hanging banners on their doors in support.
Comments will be moderated. Keep comments relevant to the article. Remarks containing abusive and obscene language, personal attacks of any kind or promotion will be removed and the user banned. Final decision will be at the discretion of the Taipei Times.