Ocean cleanup successful
About 19 tonnes of garbage was collected yesterday by 507 divers in a nationwide ocean cleanup initiated by the Environmental Protection Administration (EPA).
As of 6pm, about 19 tonnes of trash had been collected from the seabed, not including New Taipei City and Lienchiang County, as they had started later, EPA Department of Water Quality Protection Director Yeh Chun-hung (葉俊宏) said.
Keelung's Chaojing Park (潮境公園) was the main venue for the event, where EPA Minister Lee Ying-yuan (李應元) spoke to participants nationwide via live-streamed video.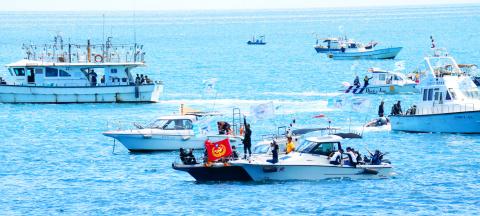 Boats are gathered in the waters off Keelung to assist divers cleaning up the area yesterday as divers joined a nationwide ocean cleanup activity.
Photo courtesy of the Keelung City Government
Chiayi County Commissioner Helen Chang (張花冠) told Lee they had even found an iPhone 5 and an electric steamer in the ocean.
More than 120 volunteers rushed to register for the event as soon as the city government announced it, Keelung Department of Economic Affairs Marine Affairs division chief Tsai Fu-ning (蔡馥嚀) said.
Chaojing Park was used as a landfill before it became a park in 2002, Tsai said, adding that the city government last year designated the intertidal waters off the park as a conservation bay, where fishing and harvesting seaweed are forbidden.
One of the divers, Lin Yo-ping (林佑平), said he and fellow members of his diving society have been volunteering to clean seabeds nationwide since 2014.
Despite the many fishing nets discarded in the area, the diving society has begun to see more fish, dolphins and sea turtles in the conservation bay, he said.
Lin said he has become increasingly optimistic about the nation's oceanic environment, but added that the real problem is garbage on land, not in the sea.
"Reducing the volume of trash is the key to solving the problem," he said.
The EPA is tightening its restrictions on plastic bags, with nearly 100,000 additional stores saying they will not provide free plastic bags starting next year, Lee said, adding he hopes the nation will become plastic-free one day.
Comments will be moderated. Keep comments relevant to the article. Remarks containing abusive and obscene language, personal attacks of any kind or promotion will be removed and the user banned. Final decision will be at the discretion of the Taipei Times.