Orion squadron to be activated near Double Ten
The air force is to formally activate a squadron of Lockheed P-3C Orion aircraft in October after training for ground personnel is completed and the last of the 12 aircraft ordered from the US are delivered next month, a Ministry of National Defense official said yesterday.
All 12 flight crews of the marine patrol squadron have completed operational training, while the squadron's other elements are to complete training by the end of this month, including ground control personnel, said the official, who requested anonymity.
The official rejected earlier reports citing military sources that said the squadron would be activated soon after the last aircraft's delivery next month.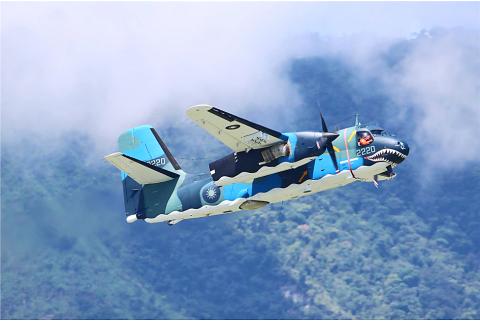 Taiwan's last operational Grumman S-2 Tracker flies over a heavily forested mountainside in an undated photograph.
Photo courtesy of the Air Force Command Headquarters
It is more likely that the ceremony marking the squadron's activation would take place near or during the Double Ten National Day festivities, the official said.
The air force plans to decommission its Grumman S-2 Tracker marine patrol aircraft fleet, which once totaled 27 airplanes, the official said.
The Trackers are close to being totally phased out, with several having been placed in "hot" storage — flyable condition — over the past two years, the official said.
The last Tracker in active "service" has not been flying missions and is to be decommissioned by the end of the year, the official said.
The air force received the first of its Orions in September 2013, with initial operational capability declared in July 2014, when they began operating in a mixed fleet alongside Trackers.
The replacement of Trackers with Orions began in July 2015.
In a demonstration of their operational status, the military last month released a video of Orions firing torpedoes and deploying mines during the Han Kuang military exercise.
The activation of a complete Orion squadron would upgrade anti-submarine capabilities, which military leaders have said are critical for the nation's defense.
Comments will be moderated. Keep comments relevant to the article. Remarks containing abusive and obscene language, personal attacks of any kind or promotion will be removed and the user banned. Final decision will be at the discretion of the Taipei Times.