Polluted popsicles draw attention to dirty water sources across the nation
Three young artists have made popsicles using water from 100 polluted sources across the nation to draw attention to the degradation of the nation's water sources.
The "Polluted Water Popsicle Factory" organized by National Taiwan University of Arts visual design students, aims to draw attention to the degradation of the environment by creating a contrast between visual and psychological information, artist Hung Yi-chen (洪亦辰) said.
The trio on Wednesday uploaded a video featuring the popsicles on its Facebook page, after which the number of the group's followers surged from 7,000 to 11,000, Hung said.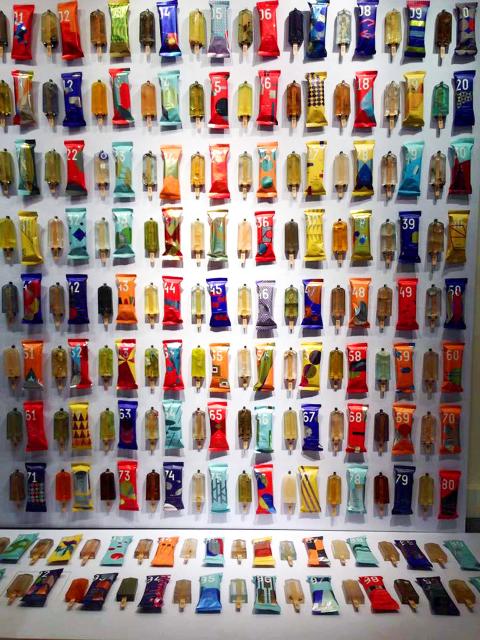 Popsicles made using water from 100 polluted sources across the nation are displayed in Taipei on Wednesday as part of the 36th Young Designers' Exhibition at the Taipei World Trade Center.
Photo: CNA, provided by the Polluted Water Popsicles Factory
The water samples were taken from sewage drains, rivers, harbors and wastewater pipes around the nation and were slow-frozen into popsicles, each with its own, individually designed wrapper, Hung said.
The water was collected from sampling locations used by water resource bureaus, she said, adding that they numbered the popsicles by sampling location from the north to the south.
Previous campaigns using posters have failed to raise public awareness and the group believes that using visual and psychological tactics to shock the audience might work better, Hung said.
"The stench of popsicle No. 1 from Keelung Harbor was the worst and it left a greasy coat on the bottle. The night market ditches are also pretty gross. A popsicle made from a ditch in Yunlin County was full of bugs, but water from Taitung County's Chihshang (池上) was comparatively clean," she said.
The artists experimented by giving popsicles to their classmates, who thought they looked pretty and delicious, but after they were told that they were made of dirty water, they threw them away, she said.
A yellow popsicle Hung showed reporters was made from water infested by the eggs of channeled applesnail, considered one of the world's worst invasive species by international conservation groups.
Taipei World Trade Center, Exhibition Hall 1 is to showcase polyresin replicas of the popsicles from today through Monday.
Comments will be moderated. Keep comments relevant to the article. Remarks containing abusive and obscene language, personal attacks of any kind or promotion will be removed and the user banned. Final decision will be at the discretion of the Taipei Times.