Fiji office closure not due to pressure from China: ministry
Fiji has closed its representative office in Taipei to make better use of its resources and not because of pressure from China as one lawmaker has claimed, the Ministry of Foreign Affairs said yesterday.
The Fiji Trade and Tourism Representative Office was shut down on Wednesday last week after Fijian Representative to Taiwan Karaisitiani Vuibau notified the ministry of his nation's decision to end its operations in Taiwan, ministry spokeswoman Eleanor Wang (王珮玲) said.
Despite the closure of Fiji's office in Taipei, Taiwan's representative office in Fiji would continue to operate, Wang said.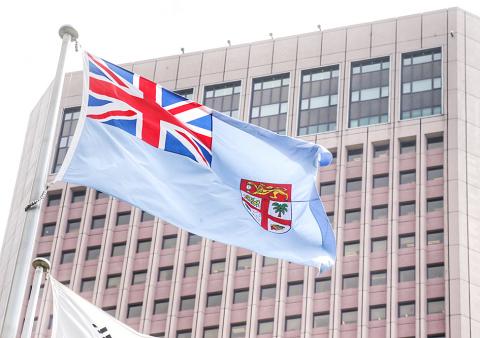 The flag of the Republic of Fiji yesterday is flown in front of the empty Fiji Trade and Tourism Representative Office in Taipei after the Ministry of Foreign Affairs confirmed that the office was closed on Wednesday last week.
Photo: CNA
Fiji's move was made to reallocate resources to better meet the nation's needs, Wang said, adding that unofficial bilateral ties between the two nations would not be affected by the move.
The closure of the office was brought to light by Chinese Nationalist Party (KMT) Legislator Lu Hsiu-yen (盧秀燕) during a legislative committee meeting yesterday.
Lu said she learned that one of the reasons behind the closure of the office was an attempt by China — which maintains diplomatic relations with Fiji — to suppress Taiwan amid strained cross-strait relations.
However, Deputy Minister of Foreign Affairs Wu Chih-chung (吳志中) told the committee that it was believed that Fiji closed its office mainly due to its limited financial resources, forcing it to adjust the number of foreign missions it supports.
The ministry saw the closure as an isolated case that would not have a "domino effect," Wu said.
The ministry provided administrative assistance to help Fijian officials close the office and they in turn expressed their gratitude to the ministry for its efforts to help advance bilateral ties over the years, Wang said.
Fiji set up its representative office in Taiwan in 1997, in an effort to advance trade, investment and tourism relations, after the nations signed a joint "mutual recognition" communique in 1996, the ministry said.
Taiwan set up a trade mission in Fiji in 1971, which was closed and replaced by the East Asia Trade Center in 1976, a year after China and Fiji established diplomatic ties.
The East Asia Trade Center was renamed the Trade Mission of the Republic of China (Taiwan) to the Republic of Fiji in 1988.
Comments will be moderated. Keep comments relevant to the article. Remarks containing abusive and obscene language, personal attacks of any kind or promotion will be removed and the user banned. Final decision will be at the discretion of the Taipei Times.