Chi Chia-wei eyes end to 30-year gay marriage fight
For Chi Chia-wei (祁家威), an imminent court decision that could make Taiwan the first place in Asia to recognize same-sex marriage is his greatest shot at justice after decades of tireless campaigning.
"It has been so long, my hair has gone gray," said the 59-year-old Chi, who often appears in public draped in rainbow flags.
The celebrated advocate, who has led the nation's gay rights movement for nearly 30 years, is to know on Wednesday next week whether his battle for marriage equality has been won when the Council of Grand Justices rules on his latest petition.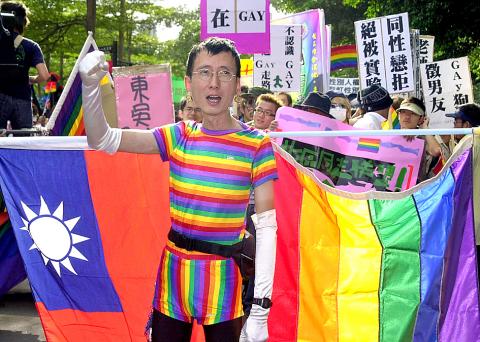 Chi Chia-wei chants slogans during a gay rights rally in Taipei on Nov. 1, 2003.
Photo: AFP
At the center of the case is a clause in the Civil Code which stipulates that an agreement to marry should be made between a man and a woman.
Chi wants the court to rule on whether that part of the code contravenes elements in the Constitution which guarantee equality and freedom of marriage.
The decision is binding, so a ruling in his favor would pave the way for same-sex unions to be legalized.
Chi says he is optimistic, but his excitement is tempered by the length of time it has taken to get this far.
"This should have happened long ago. It's belated justice," he said.
Chi is one of two petitioners bringing the case.
The other is the Taipei City Government, which is seeking clarification as authorities have been rejecting applications for same-sex marriages based on the Civil Code clause.
This time there is much more public momentum for change — in December last year, a pro-marriage equality rally drew 250,000 people, according to organizers, Chi said.
"It was just a one-man campaign when I started — now I have 250,000 people beside me. I am not alone in doing what is right," Chi said.
He was raised by liberal-minded parents supportive of his sexual orientation, who encouraged him to fight for his beliefs. He came out to friends at high school and said he was surprised by how accepting they were.
After starting out as a rights advocate for people with HIV and AIDS, Chi became a full-time advocate for gay rights after meeting his partner 29 years ago.
However, while he might have had support from his family and peers, outspoken Chi has had numerous run-ins with the authorities.
In 1986, when the nation was still under martial law, Chi said he was imprisoned for five months after submitting his first petition asking for gay marriage to be recognized.
The charges linked him with a robbery and were entirely fabricated, he said.
Since then, his appeals for a change in the marriage law have been rejected by government agencies and courts, including a failed petition to the Council of Grand Justices in 2001.
"I was not discouraged by the setbacks. That is how I have been able to carry on for so long," Chi said. "My belief is that if you can do one right thing in this life, it's all worth it."
A lack of support in the legislature has also stalled the gay marriage debate.
However, campaigners were given new hope when President Tsai Ing-wen (蔡英文) was elected last year and openly supported marriage equality.
With her Democratic Progressive Party in the majority, the Legislative Yuan passed the first draft of a bill to legalize gay marriage in December last year and it is due for a second reading later this year.
Chi said those who are against him accuse him of "spreading heresy" and attention-seeking.
They belittle his relationship with his partner, comparing it to children playing house, he says.
"I am not doing this for my own interests," Chi said. "My partner and I are an old couple now and getting married is not a priority for us, but other gay couples need legal protection."
Comments will be moderated. Keep comments relevant to the article. Remarks containing abusive and obscene language, personal attacks of any kind or promotion will be removed and the user banned. Final decision will be at the discretion of the Taipei Times.