INTERVIEW: Minister Lin addresses critiques of pension reform
Minister Without Portfolio Lin Wan-i spoke about opposition to reforms of the public servant pension system in an interview with 'Liberty Times' (sister paper of the 'Taipei Times') staff reporter Jennifer Huang, saying public support is at a historical high and that reforms are crucial to avoid bankrupting the system
Liberty Times (LT): Despite public opinion polls showing 80 percent support for the reforms, misconceptions and opposing voices remain. Should these be addressed and clarified?
Lin Wan-i (林萬億): The biggest point of contention has always been about violation of the principal of legitimate expectation if reforms are retroactively applied. However, the reforms have never called for retroactive application, meaning there has never been a plan for previously distributed pensions to be returned. The reforms focus on changes that are to be applied to the future implementation of the system.
The Council of Grand Justices in 2014 passed Constitutional Interpretation No. 717, which clearly explains that if the nation's interests are at stake, cuts to pensions are to be allowed. Therefore, adjustment of the 18 percent preferential interest rate is not a violation of constitutional law.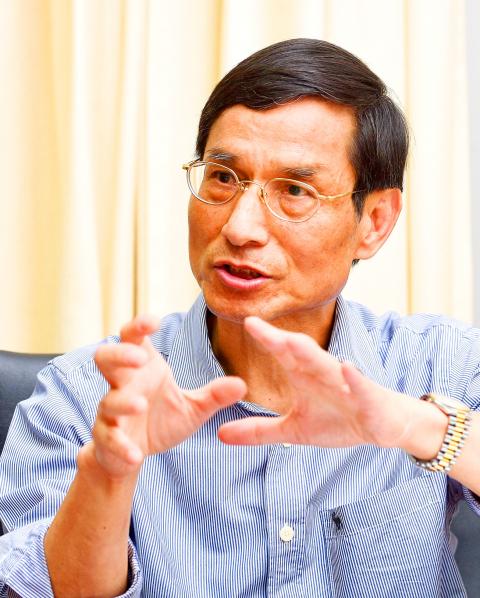 Minister Without Portfolio Lin Wan-i speaks in an interview in Taipei on April 19.
Photo: Peter Lo, Taipei Times
The reforms are intended to rescue the pension system and allow it to do much more for the public good, safeguarding the interests of aging civil service pensioners and protecting the nation's finances; it is absolutely not a violation of the principal of legitimate expectation.
There are people who have always said that hidden debt from the pension system is made up. Actually, the debt is a real, objective fact that has been confirmed numerous times through calculations by both pan-blue and pan-green governments.
The Public Service Pension Fund has been in the red since 2011. By 2020, the fund's assets will be completely used up and the fund will be bankrupt — these are facts.
The hidden debt — the debt that we have to deal with now and in the future — has reached NT$18 trillion (US$596 billion). It has been calculated numerous times and is unavoidable. We cannot just put it out of our minds and decide that it does not need to be paid immediately. If we do not cure this diseased system, then bankruptcy will be inevitable.
LT: Some of the protesters believe the reforms are a smear campaign against civil servants. Others have argued that they have paid more into the system than public-sector workers and therefore should be able to withdraw more in retirement, while yet others say what they withdraw is exactly what they contributed. How would you respond to these arguments?
Lin: Early on, civil servants had low salaries, but there were many increases over the years. Today, civil servants have higher average pay than public-sector workers and retirees are mostly concentrated among the highest earners. Pension contributions during employment are higher for civil servants in comparison with workers whose salaries are at the other end of the spectrum, so they can also withdraw more in retirement — there is no problem here.
Those covered by the labor insurance system retire at an average age of 61 and receive a monthly pension of NT$16,179 (not including employee retirement plans). Civil servants retire at an average age of 56 and receive NT$56,383 per month, and educators in the public-school system retire at 54 and receive NT$68,052 per month.
However, in the case of civil servants, the government pays 65 percent of pension contributions as the person's employer — which is basically paid by everyone [through taxation].
Civil servants also enjoy many preferential conditions which have been a source of controversy, like the 18 percent preferential-rate savings account, which the government is still making payments for until 2055.
Then there is the issue of people who have combined their years working for political parties and in civil service for their pension claims. Those who retired before 2004 can amalgamate their assigned-official and tested-official seniority levels [to benefit from increased seniority], and calculate pension amounts based on the highest pay levels for an assigned official. All these are unreasonable.
Also, unlike laborers, whose pensions are calculated based on monthly averages from their five-year highest pay, pensions for civil servants are based on their salary level in their final days of employment. The baseline calculations for their pensions are also relatively higher [than those of laborers].
In the past, some of the preferential conditions created for civil servants were excessively protective. They were systematic measures for turning the civil service into a privileged industry. Consequently, reasonable adjustments need to be made for public jobs to evolve with the times.
The proposed amendments base pension calculations on salary averages or the highest salaries 15 years before retirement dates. The measures are an attempt to bring uniformity to pension calculations — they are not meant to single out civil servants. Quite the opposite, they are meant to eliminate disparities across industries to alleviate disputes.
One other issue is controversy over unfair disparities across generations. In the past, there was controversy stemming from civil servants' income replacement ratio being higher than their working salaries. Aside from excessive preferential conditions and safeguards, there were also problems with the original design of the Public Service Pension Fund.
This became most obvious in 1995 when a new system required premiums to be paid until retirement to receive the pension. There were not enough funds as a result of insufficient allocations from low-premium payments.
At the time, a low-premium payment was settled on out of concern that there would be huge opposition to the new system if people were asked to make full-premium payments.
As such, income replacement rates were unusually high because pensioners calculated rates based on their highest salaries; many people ended up drawing higher pensions than what they contributed, leaving the problem for later generations to deal with.
LT: Some military personnel, civil servants and educators say they will be unable to survive with the reforms, and some lecturers have complained that their monthly retirement fees would be halved to NT$50,000 and they would therefore be unable to pay their house loans.
Lin: Pension reforms around the world have always been called unreasonable. It is more unreasonable to expect nations to use more money to compensate for an unreasonable system.
Take South Korea for instance. Back in the day, its pension allocation rate was only 3 percent of the salary, but its income replacement ratio was as high as 70 percent. It gradually increased its allocation rate to 9 percent of the salary while lowering the income replacement ratio to 40 percent. Japan also gradually dropped its income replacement ratio from 70 percent to 50 percent.
The current allocation rate for Taiwan's military personnel, civil servants and educators is 12 percent. Although the recalculation places the allocation rate at 40 percent if the foundation wants to balance its expenditure and income within the next 50 years, this reform plans to gradually raise allocation rates to 18 percent. This is because the Organization for Economic Co-operation and Development has suggested that pension allocation rates should not exceed 20 percent to maintain reasonable distribution of people's incomes.
The income replacement ratio should also drop to better close the gap between the pension foundation's expenses and income. Aside from Japan and South Korea which both dropped their ratios to about 50 percent, the ratio for US civil servants has also fallen to less than 70 percent.
The amendment sent to the Legislative Yuan suggested a monthly payout scheme of NT$32,160 as the most basic guarantee, estimating that such a guarantee would prevent 20,000 retirees from being affected by the reform.
Even if the government did away with the 18 percent preferential treatment savings plan, the original sum deposited will still be returned to the original person, which could then be used for more investments.
According to calculations made by the Ministry of Civil Service, there are 130,000 retired civil servants on the monthly payout retirement plan, more than 42 percent of whom are paid NT$60,000 per month.
Nearly 70 percent of retired educators are paid NT$60,000 to NT$80,000 per month, with nearly 8 percent of educators paid a pension of more than NT$80,000.
The reform does not plan to reduce all high payouts to the absolute minimum, but instead lower the payout scheme on a yearly basis to the intended goal of 60 percent of their salary when they were working.
The basic formula multiplies a person's basic wage by two, which would place most people's actual income at 72 percent of their actual salary. For example, if someone was paid NT$100,000 when they worked, they would still be paid NT$60,000 to NT$70,000 a month 15 years later.
For those who claim that this would cause difficulties, this is only readjusting previously unreasonable rates back to normal.
LT: There are people who support pension reform, but are worried that delayed retirement would create an aging work force. How would the government counter this side effect?
Lin: The high-income replacement ratio has been a major factor driving many educators to retire early. Although this has led to younger educators being able to enter the workforce, early retirement and long periods of payouts is one of the major reasons that there is a gap in the foundation's funding.
The amendments submitted to the Legislative Yuan have suggested delaying the age of retirement to 65, but there were special considerations for teachers in high schools and below, as well as military personnel, police officers and firefighters.
In particular, the age for teachers was only extended to 60, with a 10-year transition period. The most important part is to attempt to turn teachers' experiences into qualitative teaching.
In addition, the decline in birthrates will mean that the number of students will decrease by 100,000 per year, which will lead to less demand for teachers. This is more a trend brought on by the greater environment than the pension system.
In light of this trend, the reforms have also proposed that a teacher's years of experience should be factored into their total years of service when applying for retirement, which would allow teachers to consider other vocations while ensuring that their right to a pension is not affected.
Comments will be moderated. Keep comments relevant to the article. Remarks containing abusive and obscene language, personal attacks of any kind or promotion will be removed and the user banned. Final decision will be at the discretion of the Taipei Times.