Women's League warns over 'justice'
REBUKE: Transitional justice seeks to correct injustices and restore history, a NPP lawmaker said after the league accused the government of attacking its rivals
The National Women's League yesterday urged the government to exercise caution pursuing transitional justice, saying that it should not be used as a pretext to attack political rivals.
The remarks were part of a speech prepared by National Women's League chairwoman Cecilia Koo (辜嚴倬雲), who asked league member Tien Ling-ling (田玲玲) to deliver the speech at a Taipei event celebrating International Women's Day in her absence.
"If justice is defined as oppressing a competing political party or organizations that have once supported those parties with no regard for historical truth, then justice runs the risk of being unjust," Tien said.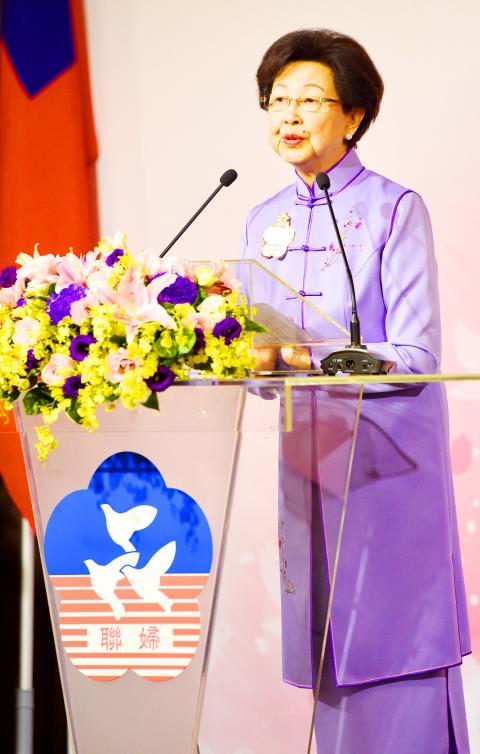 National Women's League standing committee member Tien Ling-ling addresses a tea party held in Taipei yesterday to celebrate Women's Day, calling on the government not to oppress the group due to its past political stance.
Photo: Liu Hsin-de, Taipei Times
Tien said the league, which has dedicated to protecting women's rights and helping the disadvantaged, was of the opinion that the pursuit of transitional justice should be free of selfish motives.
Established by former president Chiang Kai-shek's (蔣介石) wife, Soong Mayling (宋美齡), in 1950 and headed by her for decades, the league has seen its assets under government scrutiny, as its activities benefited from its close ties to the Chinese Nationalist Party (KMT).
Much of its funding came from the Military Benefit Tax, which was levied on the US dollar value of all imported goods between 1955 and 1989.
Democratic Progressive Party Legislator Lai Jui-lung (賴瑞隆) accused the league of continued obfuscation of its finances and refusal to cooperate with investigations launched by the Ill-gotten Party Assets Settlement Committee.
Whether a political or civic group, the league should operate under principles of financial transparency, Lai said.
During the KMT's decades-long authoritarian regime, the league was able to amass trillions of New Taiwan dollars from the money collected from the tax, Lai said.
New Power Party Legislator Hsu Yung-ming (徐永明) said the league was putting the cart before the horse, as transitional justice seeks to achieve is the correcting of injustices leftover from authoritarian regimes and righting history.
The league's intention to resolve past injustices through donations does not constitute transitional justice, Hsu said, adding that the league should not seek to process its assets prior to investigation.
The Ministry of Health and Welfare should turn down the league's donations, Hsu said, referring to the NT$16 billion (US$518.4 million) offered by the league on Monday.
Civil Affairs Department Deputy Director Lo Rui-ching (羅瑞卿) said the ministry hoped that the league would be transparent about its finances.
Comments will be moderated. Keep comments relevant to the article. Remarks containing abusive and obscene language, personal attacks of any kind or promotion will be removed and the user banned. Final decision will be at the discretion of the Taipei Times.