Pollen from cherry blossom can harm eyes, report says
A report in the Chinese-language Apple Daily cautioned people against coming into close contact with blooming flowers, after a 20-year-old woman's eyes became severely inflamed.
The report said the woman was viewing the cherry blossoms on Yangmingshan (陽明山) when her eyes suddenly became itchy and painful.
After her eyes became swollen from incessant rubbing, the woman sought medical help and discovered she had conjunctivitis brought on by an allergic reaction to flower pollen.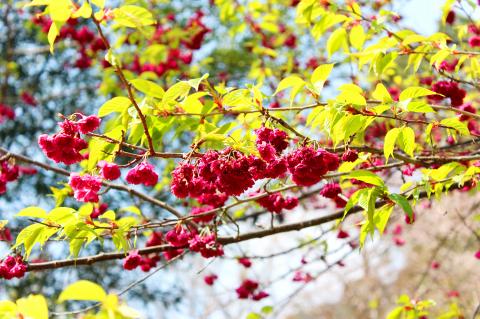 Formosan cherry trees blossom on Saturday in Hsinchu's Jianshih Township.
Photo: CNA
The director of Hsinchu-based Cathay General Hospital's ophthalmology department, Chen Ying-shan (陳瑩山), said the capillaries in her eyes had become swollen, causing her eyes to inflame.
The woman was wearing contact lenses at the time of the reaction, Chen said, adding that this caused further irritation to her corneas from friction when she kept rubbing her eyes.
The woman is now fully recovered, but had she delayed treatment, it could have resulted in blindness, Chen said.
There are always more patients seeking treatment for allergic reactions in the spring, due to the number of people viewing the spring blossoms, Chen said, adding that recent weeks have seen a 30 percent increase in the number of allergy related cases.
Chen advised those planning to take in the blossoms to always maintain a safe distance from the flowers.
It is also advisable to wear glasses as opposed to contact lenses, Chen said.
Comments will be moderated. Keep comments relevant to the article. Remarks containing abusive and obscene language, personal attacks of any kind or promotion will be removed and the user banned. Final decision will be at the discretion of the Taipei Times.