Professors petition to protect academic integrity, saying freedom is 'not for sale'
A Taiwanese professor on Sunday launched a petition to protect academic freedom following allegations last week that a majority of the nation's universities signed letters agreeing to censor topics Beijing deems offensive.
Shih Hsin University on Thursday last week was accused of signing a letter promising Chinese universities that its faculty would not discuss sensitive political topics in classes offered to Chinese exchange students, such as "one China, one Taiwan," "two Chinas" and Taiwanese independence.
The Ministry of Education said a preliminary investigation revealed that at least 80 Taiwanese universities have signed similar agreements and that a full investigation is to be conducted in the next two weeks.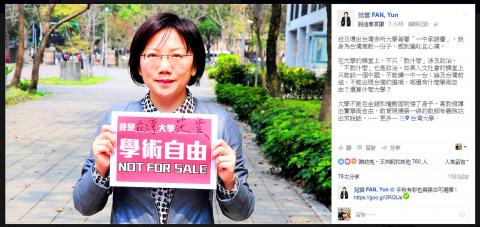 National Taiwan University professor and Social Democratic Party convener Fan Yun holds a sign that reads "Academic freedom is not for sale" on Sunday.
Photo: screengrab from Facebook
Fan Yun (范雲), a National Taiwan University sociology professor and the Social Democratic Party (SDP) convener, called on professors to petition against political restrictions imposed on them by universities.
"As a teacher in Taiwanese higher education, I feel ashamed and heartbroken. In a university classroom, what one teaches and refrains from teaching are both political actions. If humanities education … is obliged to negate Taiwanese independence in discussions about Taiwan's future, we have no such thing as academic freedom in universities," she said on Facebook.
Fan said the scandal is a "crisis of Taiwanese democracy," adding that universities have a duty to safeguard academic discourse and research freedoms, but the incident shows that half the nation's institutions are prepared to sacrifice those principles.
"There is no such thing as apolitical academic discourse. Marking any topic as beyond the pale of learning or discussion is in itself politically manipulative," she said, adding that universities that do not honor academic freedom are "no better than counterfeit food products."
A number of university faculties and student organizations have participated in Fan's movement by signing the petition and posting photographs displaying their names, institutions and the message "academic freedom is not for sale."
Former Shih Hsin University president Lai Ting-ming (賴鼎銘) and professor Chen Cheng-liang (陳政亮), have signed the petition.
The National Taiwan University Student Association and the National Taiwan University Graduate Student Association issued a joint statement condemning the agreements, saying that they compromise academic freedom, limit exchange students learning experience and destroy the integrity of cross-strait academic exchanges.
"Academic freedom is a right guaranteed by the University Act (大學法) and should not be abridged because university administrators are afraid of China," they said.
Resurrecting censorship on campus is offensive to the democracy advocates and dissidents who died during the Martial Law era, they added.
Comments will be moderated. Keep comments relevant to the article. Remarks containing abusive and obscene language, personal attacks of any kind or promotion will be removed and the user banned. Final decision will be at the discretion of the Taipei Times.