KMT slows transitional justice: Koo
MOUTHPIECE: The KMT is different from the former Socialist Party of Germany in that it has its own media outlets to voice its policy stance, Wellington Koo said
The Chinese Nationalist Party's (KMT) ties with China and its unwillingness to abandon its legacy pose challenges to transitional justice, Ill-gotten Party Assets Settlement Committee Chairman Wellington Koo (顧立雄) said yesterday.
Speaking in Taipei at an event on transitional justice, Koo said the KMT is much stronger than East Germany's ruling Socialist Unity Party of Germany (SED), to which it is often compared in reference to transitional justice.
Saying that the essence of transitional justice is seeking historical facts, reconciliation and justice, Koo expressed dismay at what he called resistance to such efforts in Taiwan, adding that the pursuits are often misinterpreted as political conflict.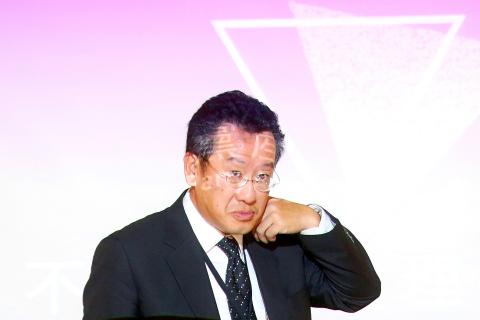 Ill-gotten Party Assets Settlement Committee Chairman Wellington Koo talks at a news conference in Taipei on Friday.
Photo: CNA
Justice must be pursued in a timely fashion to prevent the efforts from losing steam, Koo said.
Comparing the KMT with the SED, Koo said both parties have reacted similarly to investigations into their assets by filing lawsuits at every step, adding that Germany's party assets investigation committee tirelessly persisted in the face of these obstructions.
"However, Taiwan and Germany have three major differences: Records were dug up immediately following the collapse of East Germany ... but here the records were lost. [In Taiwan] assets were concentrated in the hands of a few following democratization ... [and] the KMT is much more powerful than the SED was," Koo said.
Koo said the KMT differs from the SED in that it has its own media outlets that voice its position on the issue of unification with China.
Transitional justice measures in post-unification Germany differed greatly in that they did not face the same issues when dealing with the legacy of an authoritarian party, Koo said.
Even after Taiwan transitioned from a nation where protests were violently suppressed, the KMT continued to hold executive, legislative and judicial power, Koo said, adding that obstructions to transitional justice are the natural outcome of that situation.
In that situation "there will never be a judge who says: 'I completely understand transitional justice,'" Koo said.
He said that the KMT once "sat atop a pedestal," adding that it can only understand the will of the public when it is on the same level as other parties.
Koo cited the KMT's previous annual personnel expenses, which were as high as NT$3.2 billion (US$104.4 million), adding that the party's current staff of 300 is more reasonable for a political party.
Aside from the investigation into its assets, the KMT must face up to its past, Koo said, adding that even the removal of a statue of Chiang Kai-shek (蔣介石) in Tainan was marred with protests.
"However, I believe everything should be fine; we just need to take it one step at a time," Koo said.
Comments will be moderated. Keep comments relevant to the article. Remarks containing abusive and obscene language, personal attacks of any kind or promotion will be removed and the user banned. Final decision will be at the discretion of the Taipei Times.