Air raid drills to be held from next week to May
The annual Wanan air raid drills are to be held across the nation from this month to May, while the Minan disaster prevention drill will include anti-terrorism exercises in preparation for the Universiade in August.
The 40th Wanan drill, a military and civilian exercise, is to be held in seven regions on Taiwan proper and the outlying islands to build public awareness of defense, the Ministry of National Defense said yesterday.
Streets will be evacuated from 1:30pm to 2pm to allow for military exercises, disaster prevention drills, air-raid siren tests and traffic control.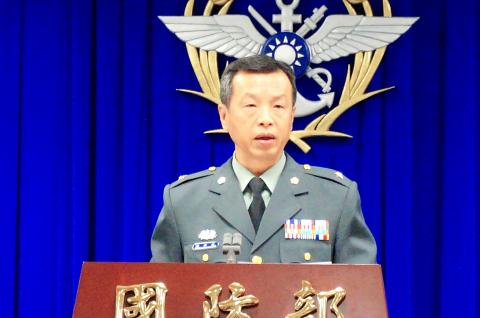 Ministry of National Defense spokesman Major General Chen Chung-chi explains details of the annual Wanan air raid drill at a news conference in Taipei yesterday.
Photo: Tu Chu-min, Taipei Times
The National Police Agency will also test its mobile phone text alert system during the exercise, with information on the annual drill being sent to users when air raid sirens are turned on, All-out Defense Mobilization Office Director Major General Han Kang-ming (韓岡明) said.
The first exercise is to be held in Kinmen County on Tuesday next week, followed by Matsu on Thursday, Hualien and Taitung on March 2, central Taiwan on April 13, southern Taiwan on May 11, northern Taiwan on May 18 and Penghu County on May 24.
Meanwhile, the Minan disaster prevention drill is to be held in Taitung County on March 2, New Taipei City on March 9, Hualien County on March 16, Taichung on March 23, Taipei on March 29 and 30, Tainan on April 6, Chiayi City on April 13, Keelung on April 20, Taoyuan on April 27, Kaohsiung on May 11 and Hsinchu City on May 18.
The drills are meant to familiarize the military and civilians with region-specific disasters and response procedures, with representatives of the nation's diplomatic allies to be invited to observe the exercises, Han said.
The ministry will cooperate with the Executive Yuan's Office of Homeland Security to conduct counterterrorism drills during the Minan exercise in Taipei to prepare the city government for the Universiade in summer, Han said.
"The Wanan drill is to familiarize the armed forces and civilians with the nation's air defense to reduce the impact of an air raid, while the Minan drill is to build a systematic disaster prevention mechanism," ministry spokesman Major General Chen Chung-chi (陳中吉) said.
Comments will be moderated. Keep comments relevant to the article. Remarks containing abusive and obscene language, personal attacks of any kind or promotion will be removed and the user banned. Final decision will be at the discretion of the Taipei Times.