Rituals mark gods' return
LONG LINES: People in Pingtung started lining up at 2am to receive a special gift from Du Cheng Huang Temple and a red envelope containing a 'mother coin'
People yesterday prepared fresh flowers and food in a ritual based on the belief that the fourth day of the Lunar New Year is when gods return to the mortal realm, while temples celebrated the return of the god of wealth by handing out thousands of red envelopes.
In Taoist belief, gods travel to heaven on the 24th day of the 12th lunar month to report on the activities of the past year to the supreme deity, the Jade Emperor, and return to the mortal world on the fourth day of the Lunar New Year.
At the Du Cheng Huang Temple (都城隍廟) in Pingtung City, people began lining up early in the morning, waiting to receive a red envelope containing a "wealth-attracting coin," or "mother coin" (錢母), which is believed to bring in more money throughout the year.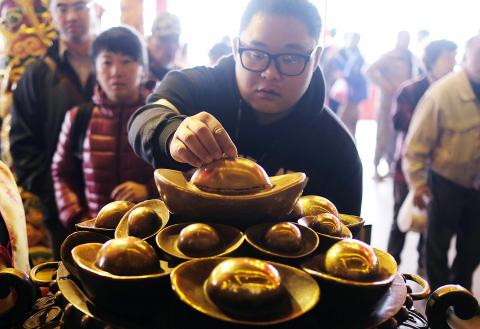 A man places an offering in a gold ingot-shaped container at Hong Lu Ti Temple in New Taipei City yesterday.
Photo: AFP
The temple began handing out the envelopes at 9am.
The temple, which has a shrine to Wulu Caishen, the Five Road Gods of Wealth, prepared 5,000 red envelopes containing a NT$10 coin placed on a god of wealth card, while there were 10 special gifts for the first 10 people in line.
The line grew to nearly 2km long before Pingtung County Commissioner Pan Meng-an (潘孟安) started giving out the red envelopes.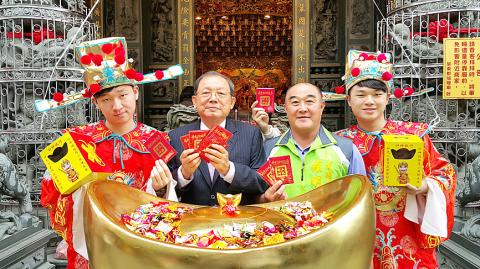 Du Cheng Huang Temple staff pose for photographs before handing out red envelopes containing "wealth-attracting coins" in Pingtung City yesterday.
Photo: Chen Yan-ting, Taipei Times
The first person in the line arrived at about 2am.
The temple's secretary-general, surnamed Wen (溫), said the coin is given out in the hope that the receiver will become wealthy in the new year by waving it in front of the incense burner.
Pan later went with people in Wulu Caishen costumes to give out red envelopes to vendors at a nearby night market, seeking to bring wealth and prosperity, as well as tourism to the county.
A temple in Kaohsiung's Cishan District (旗山) put NT$16,800 in NT$1,000 and NT$100 bills in a container that broke open to rain money from the ceiling when triggered by fireworks.
Taichung's Kuantien Temple (廣天宮) prepared 2,000 red envelopes containing NT$1 to symbolize "a fresh start for the year ahead" and staged rituals to attract good fortune.
Comments will be moderated. Keep comments relevant to the article. Remarks containing abusive and obscene language, personal attacks of any kind or promotion will be removed and the user banned. Final decision will be at the discretion of the Taipei Times.