White Terror era inspires horror game 'Detention'
White Terror era-inspired, Taiwanese-made survival horror video game Detention has achieved best-seller status for the Taiwan region on Steam — an online gaming platform — and received plaudits from critics.
According to Red Candle Games — the game's Taiwanese developer — Detention is a side-scrolling adventure that takes place in Taiwan during the 1960s, when the nation was in the midst of the White Terror era and under martial law.
The game was released on Steam on Thursday last week, Red Candle said.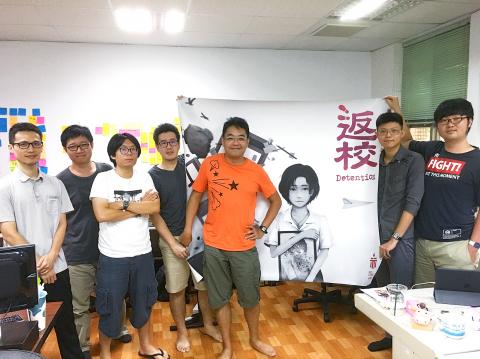 Game creator Yao Shun-ting, center, stands in front of a poster for Detention, a horror title from Red Candle Games, in Taipei on Monday.
Photo: Wu Po-wei, Taipei Times
The White Terror era refers to the suppression of political dissidents following the 228 Incident, an uprising that began on Feb. 27, 1947, which was brutally suppressed by the then-Chinese Nationalist Pary (KMT) regime. The government subsequently imposed martial law, which was lifted on July 15, 1987.
The game's creator, Yao Shun-ting (姚舜庭), said that the fear of religious or political persecution during that period was used as a subtext to the gameplay.
The game incorporates aspects of Taiwanese and East Asian culture and drew inspiration from Taiwanese history, as well as religious themes from Taoism and Buddhism, the developers said.
Centered on a male and a female student at a haunted junior-high school in a remote mountainous region, players explore the history of their environment to help them deal with supernatural dangers, the developers said.
Reviewers praised the game, saying it effectively combined classic survival horror gameplay and Taiwanese culture, such as religious practices, funeral rituals and historical events.
YouTube games critic Chang Chia-hang (張嘉航) purchased the game and broadcast gameplay three days after its release on Steam and said he was stunned into silence by his playing experience.
Several foreign gaming critics have also praised the game.
Comments will be moderated. Keep comments relevant to the article. Remarks containing abusive and obscene language, personal attacks of any kind or promotion will be removed and the user banned. Final decision will be at the discretion of the Taipei Times.