Literary circle shocked by author's admission
Academics and writers on Sunday reacted with shock after award-winning author Mika Tanaka admitted to falsifying her personal history throughout her career.
Tanaka, whose real name is Chen Hsuan-ju (陳宣儒), won the Ministry of Culture's coveted Golden Tripod Award in 2015 for her non-fiction book, Wansei Back Home (灣生回家), which was made into a documentary by the same name that won commercial success. The award came with a prize of NT$150,000.
At the time, Chen said that her Japanese maternal grandmother was a wansei, a story that she told at numerous promotional events for the book and the documentary.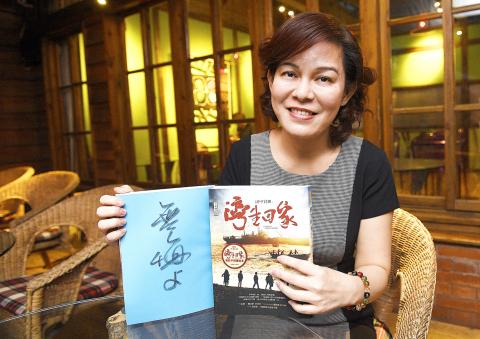 Author Chen Hsuan-ju, also known as Mika Tanaka, holds up a copy of her book Wansei Come Home in Taipei on Oct. 10, 2015.
Photo: Chen Chih-chu, Taipei Times
Wansei is a Japanese-language term used to describe people who are the descendants of Japanese immigrants who came to Taiwan during the Japanese colonial era from 1895 to 1945.
However, the veracity of Chen's personal history was questioned by critics, including social commentator Kuang Jen-chien (管仁健), who in 2015 accused Chen of fabricating her history.
Journalist Takeshi Yoshimura (吉村剛史), a former Taiwan bureau head of the Japanese-language Sankei Shimbun, last month published a story on Chen, saying he found multiple discrepancies in Chen's account of her past that cast doubt on the integrity of her autobiography.
According to Yoshimura, Chen rendered her supposed Japanese grandmother's name in Chinese as Tianzhong Yingdai (田中櫻代), but could not provide a correct or consistent pronunciation of Yingdai in Japanese, as each of its Kanji characters have at least two possible pronunciations.
When he confronted Chen on the issue during an interview, Chen offered to substitute Yingdai with another name, Yoshimura said, adding that there were other discrepancies in her story that did not check out.
For example, Chen claimed to have attended a Japanese kindergarten, but cannot speak the language fluently; she asserted to have visited Tsugaru, Japan, in the 1980s, but the city did not exist before 2005; she said she attended an international school for Japanese students in Kaohsiung, but failed to recall the names of any of her classmates or teachers, Yoshimura said.
Yoshimura's report was subsequently picked up by Taiwan's largest online academic bulletin board, the Professional Technology Temple, leading to a round of accusations against Chen, ranging from lying about personal details and copyright infringements of paintings.
After initially denying the accusations, Chen on Sunday issued a statement on the Facebook account of Wang Jung-wen (王榮文), chief executive officer of Yuan-Liou Publishing Co (遠流出版公司) and Chen's publisher, admitting to making up her past and assuming the identity of wansei, among other fabrications.
Chen said the wansei she identified as Tianzhong is a real person named Sayo Tanaka she met and befriended in Kaohsiung, who later became Chen's patron, and provided funds for her university education abroad, although she also admitted to not having any of the degrees from foreign institutions she claimed to have obtained.
Disappointed readers were only one party among those who were unhappy about Chen's deception.
Sources said publishing houses whose nonfiction books lost prestige and profits to the now-discredited Chen in the Golden Tripod award in 2015 were clamoring for the ministry to remove Chen's honors and award the prize to another author.
The ministry issued a statement on Sunday, saying it "will invite publishing experts to discuss whether the identity of the author had an effect in the work being considered for the Golden Tripod's award for the nonfiction genre; if necessary, we do not rule out revisiting the decision made in 2015 to award the said book."
"There was no way to have an educated guess on how to pronounce the name Yingdai in Japanese," said Lin Shuei-fu (林水福), an authority on Japanese literature and professor of Japanese literature at South Taiwan University of Science and Technology.
Calling on more disclosure and investigation into the affair, he said Chen's claims that Sayo Tanaka had sponsored her education in Japan and Europe can be easily verified through attendance records.
"I really hope she did not fake all of it," he added.
"As a genre, literary journalism combines the literary art and truths; Chen — or Tanaka — incorporated a deceptive personal history into her story, which is a violation of the tenets of literary journalism," said Yang Tsui (楊翠), a prominent writer and professor of Chinese literature at National Dong Hwa University.
Yang said she believes removing Chen's personal account from her book does not detract from a reader's ability to understand or evaluate the story, and Chen might have claimed to be of wansei descent to add flavor to the narrative, but "those actions had utterly destroyed her integrity as an author."
"There should be no forgiveness for falsification in Taiwan. Such incidents would serve only to chill Taiwanese hearts," she added.
Chen Fang-ming (陳芳明), director of Taiwanese literature at National Chengchi University who had previously endorsed Chen Hsuan-ju's second book in the fiction genre, said he was dazzled by Chen Hsuan-ju's literary style.
Chen Hsuan-ju's deception could undo Taiwanese academics' efforts in reconstructing the historical memory of wansei, he said.
"The Mika Tanaka affair was not just a case of fabricating an identity. It is a sacrilege against Taiwanese history. She exploited Taiwan's historical amnesia that created the necessary space for falsehoods to survive," he added.
Wang said that the editorial desk at Yuan-Liou Publishing is considering to pull Chen's books Wansei Back Home and My Home in the South (我在南方的家) from circulation, but added he believes the author's work "had some contribution to Taiwanese history."
In reference to calls from Consumers' Foundation vice chairman Yu Kai-hsiung (游開雄) for the publisher to compensate readers who want to return their books, Wang said he would "respect the foundation's views and findings and a careful discussion of this incident may benefit the industry as a whole."
Taiwanese writer Zhang Dachun (張大春) said the maturity of a reading public depends on the ability to exercise logic by publishers, the media and the readership at a collective scale, and the incident might have a positive effect for developing public maturity.
"The public does not need to go on a witch hunt against Chen Hsuan-ju; her work did call public attention to wansei as a topical concern," he added.
The documentary, the book and the creator as an individual should be considered separate entities; if the corpus of works do not contain falsehoods, then they should be accepted on their own merits, Man Asian Literary Prize nominee Egoyan Zheng (伊格言) said.
Chen Hsuan-ju's personal deceit and unauthorized use of the intellectual property of other creators must be condemned unequivocally and she should accept her legal and moral responsibility, Zheng added.
Comments will be moderated. Keep comments relevant to the article. Remarks containing abusive and obscene language, personal attacks of any kind or promotion will be removed and the user banned. Final decision will be at the discretion of the Taipei Times.