NPP pans 'rushing' of labor amendments
The New Power Party (NPP) yesterday urged the Democratic Progressive Party (DPP) to "think twice" before rushing proposed amendments to the Labor Standards Act (勞動基準法) through the legislature.
Speaking at a news conference in Taipei yesterday morning, NPP caucus convener Hsu Yung-ming (徐永明) asked the DPP government to think clearly and reconsider its decision to push the amendments through the legislature.
Urging the DPP caucus to refrain from "abducting public opinion" by threatening to subject DPP members who fail to toe the party line to disciplinary measures, Hsu questioned the rationale behind the party's decisions to shelve draft bills on marriage equality while passing the amendments to the act in a rush.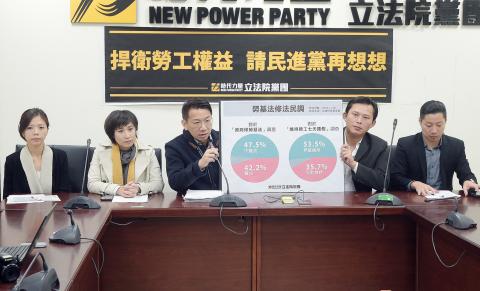 New Power Party lawmakers yesterday in Taipei present the results of an opinion poll about proposed labor law amendments.
Photo: Huang Yao-cheng, Taipei Times
"Whose interests is the DPP safeguarding?" Hsu asked.
NPP Executive Chairman Huang Kuo-chang (黃國昌) blasted the DPP caucus' move to initiate a motion to remove an article in the planned amendments that proposes heavy fines for large corporations that violate the act.
"I cannot believe the ruling party, which had repeatedly vowed to protect workers' rights, initiated a motion today to delete the proposed Article 78-1 aimed at bolstering punishments that took us a lot of effort to put it on the version passed during previous legislative committee reviews," Huang said on Facebook.
Huang said the removal of the proposed clause could see employees who violate the act get away with a mere NT$20,000 fine, and urged the DPP caucus to revoke the motion and respect the consensus reached during committee review.
According to the proposed addendum of Article 78-1, companies that violate the act would face fines that are proportional to their size, with the maximum amount being set at NT$5 million (US$156,484) for a company with more than 500 employees.
However, the DPP caucus is leaning toward dealing with violators through the proposed version of Article 79 of the act, which carries a fine of no less than NT$20,000 and not more than NT$1 million.
DPP spokesman Yang Chia-liang (楊家俍) urged Huang not to "pretend to understand things he does not," saying that Huang's inaccurate interpretations of the content of the proposed amendments shows his inability to review draft bills.
"The proposed changes to Article 79 ... also allow government agencies to increase the fine up to NT$1.5 million, after considering the corporate size, number of violators and the severity of violations," Yang said.
Yang said the amended act would have a more comprehensive deterrent effect on employers.
Comments will be moderated. Keep comments relevant to the article. Remarks containing abusive and obscene language, personal attacks of any kind or promotion will be removed and the user banned. Final decision will be at the discretion of the Taipei Times.