Tsai failing nation's Aborigines: KMT
SIMPLE APPEAL: KMT lawmakers questioned the conviction of a Bunun hunter for using a rifle that was not of the less-sophisticated type usually used by Aborigines
The Chinese Nationalist Party (KMT) yesterday voiced its support for a Bunun hunter who was convicted on charges of poaching and illegal possession of firearms, calling on President Tsai Ing-wen (蔡英文) to respect her apology made to the nation's Aboriginal communities, while KMT Central Policy Committee director Alex Tsai (蔡正元) called the Democratic Progressive Party (DPP) "fake Taiwanese" for persecuting Aborigines.
KMT officials and KMT Aboriginal lawmakers held separate news conferences to voice criticism of the government's failure to live up to Tsai's promise to safeguard Aborigines' rights, citing the case of Bunun hunter Tama Talum, also known by his Chinese name, Wang Guang-lu (王光祿), who was found guilty of violating the Controlling Guns, Ammunition and Knives Act (槍砲彈藥刀械管制條例) and the Wildlife Conservation Act (野生動物保育法) and sentenced to three-and-a-half years in prison in October last year.
Tama and his lawyers have argued that he is entitled to hunt and practice traditional Bunun culture under the Indigenous Peoples Basic Act (原住民基本法), and Prosecutor-General Yen Ta-ho (顏大和) filed an extraordinary appeal on his behalf in December last year.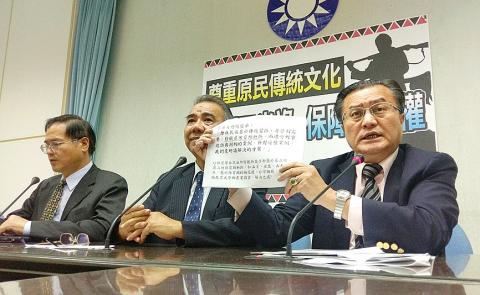 From left, Chinese Nationalist Party (KMT) Aboriginal legislators Sra Kacaw, Sufin Siluko and Yosi Takun hold a news conference on the need to protect Aboriginal hunting rights at the Legislative Yuan in Taipei yesterday.
Photo: Fang Pin-chao, Taipei Times
The Supreme Court on Tuesday began to hear the appeal.
KMT caucus convener Sufin Siluko (廖國棟), an Amis, said the possession of self-made hunting rifles by Aborigines is an issue that concerns Aboriginal communities' collective cultural rights.
The guilty verdict was based on Tama's use of a rifle that was not of the less-sophisticated type usually used by Aborigines for hunting and ceremonies.
Aborigines cannot be asked to "use a 19th century rifle while living a modern life," Sufin said.
KMT Legislator Yosi Takun (孔文吉), a Sediq, asked why Aborigines "are required to start fires with a bow drill when there are lighters?"
KMT Culture and Communications Committee deputy director Hu Wen-chi (胡文琦) called on the Supreme Court to be lenient in reviewing the appeal, as different sets of values might be in conflict.
KMT headquarters has asked its caucus to submit amendment proposals to ensure Aborigines' rights, Hu said, adding that the government has only paid lip service to Aboriginal communities, as "no concrete plans or agenda have been made by the DPP central and local governments to advance Aboriginal transitional justice."
Han Chinese immigrants and their descendants have "lived in Taiwan since the 17th century and referred to themselves as 'Taiwanese ... [and have caused] a near extinction of wildlife," Alex Tsai said on Facebook. "These 'Taiwanese' have no right to boss Aborigines around."
"The DPP is using the law to persecute Aborigines, and these fake 'Taiwanese' will not be forgiven by God," he added.
Comments will be moderated. Keep comments relevant to the article. Remarks containing abusive and obscene language, personal attacks of any kind or promotion will be removed and the user banned. Final decision will be at the discretion of the Taipei Times.