AFAD wins human rights award
The Asian Federation Against Involuntary Disappearances (AFAD) is to be given the Asia Democracy and Human Rights Award for its efforts to resolve the problem of forced disappearances in Asia.
"AFAD has made indelible contributions in pushing states to address the rights of families of the disappeared and in seeking justice for the victims," said Legislative Speaker Su Jia-chyuan (蘇嘉全), chairman of the Taiwan Foundation for Democracy, which presents the award, after announcing the winner at a news conference yesterday.
He said that AFAD was a major force behind the UN's adoption in 2006of the International Convention for the Protection of All Persons from Enforced Disappearances, and has in recent years been active in lobbying Asian governments to sign and ratify the convention.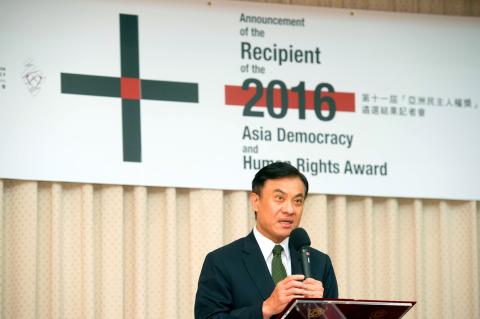 Taiwan Foundation for Democracy chairman and Legislative Speaker Su Jia-chyuan presents the Asia Democracy and Human Rights Award to the Asian Federation Against Involuntary Disappearances in Taipei yesterday.
Photo: courtesy of the Legislative Yuan
Su said that many instances of politically motivated disappearances also occurred in Taiwan when the nation was under authoritarian rule.
As someone who took part in rescue missions for missing people at that time, Su said he could deeply empathize with the fear experienced by the victims' families and the hardships faced by human rights organizations in authoritarian nations.
Founded in 1998 in Manila, AFAD facilitates searches for people who are abducted or imprisoned by a state or political organization, and works to ensure the attainment of truth, justice, redress and the reconstruction of the collective memory of the missing.
The award was established by the foundation in 2006 to recognize individuals or organizations in Asia who have made significant contributions to promoting democracy through peaceful means.
Recipients of the award include Reporters Without Borders, Rescue Foundation of India, End Child Prostitution, Child Pornography and Trafficking of Children for Sexual Purposes International, as well as Kim Seong-min, founder and director of Free North Korea Radio.
The award ceremony is to take place on Dec. 10, which is International Human Rights Day, and comes with a prize of US$100,000.
Funded mainly by the government, the foundation is a nonprofit organization aimed at promoting democracy and human rights.
Comments will be moderated. Keep comments relevant to the article. Remarks containing abusive and obscene language, personal attacks of any kind or promotion will be removed and the user banned. Final decision will be at the discretion of the Taipei Times.