'Sword lion' mailboxes become tourist attraction
Two mailboxes adorned with sword lions — a traditional emblem of Tainan — have become a popular tourist attraction in the city.
The mailboxes are outside the Anping post office, which is next to Anping Port (安平港), a historic landmark in Tainan.
Naval fleets were stationed in Anping (安平) during the Qing Dynasty and legend has it that when the soldiers went home, they hung their lion-emblazoned shields in front of their doors and placed their swords near the lion's mouth.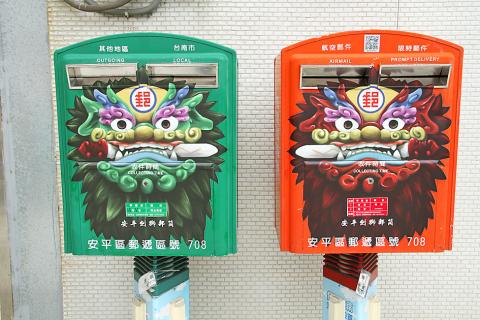 Two mailboxes with **jianshi** — "sword lion" — painted on them are pictured on Aug. 28 in Tainan's Anping District. According to tradition in Anping district, the sword lion is able to repel evil spirits
Photo: CNA
According to the legend, the shields and swords scared away intruders, and as time went by, more Anping residents began putting such objects in front of their homes.
The belief is that the emblem of the sword lion — a lion's head with a sword in its mouth — would ward off evil spirits, bring good fortune and protect the home.
The emblem can be seen on houses, statues, buildings and streets in Tainan.
Visitors to Tainan are encouraged to see the mailboxes, Anping Fort (安平古堡), Anping Tree House (安平樹屋) and Anping Old Street and to sample the city's specialty foods, Tainan post office director Su Ching-hui (蘇慶輝) said.
Comments will be moderated. Keep comments relevant to the article. Remarks containing abusive and obscene language, personal attacks of any kind or promotion will be removed and the user banned. Final decision will be at the discretion of the Taipei Times.