KMT's Hung rails against new 'ill-gotten' assets bill
SKELETONS: The KMT's Wu Den-yih said the party should return all its assets that were not obtained in a justifiable way, or they would forever be a 'cash machine' for the DPP
Chinese Nationalist Party (KMT) Chairwoman Hung Hsiu-chu (洪秀柱) yesterday evening issued a strongly worded statement, calling the legislature's passage of the Act Governing the Handling of Ill-gotten Properties by Political Parties and Their Affiliate Organizations (政黨及其附隨組織不當取得財產處理條例) "unconstitutional."
"The so-called 'Democratic Progressive' Party used 'majority violence' to pass a bad law that is illegal, unconstitutional, anti-democratic and against the rule of law, in an attempt to shape a political environment for 'one-party dictatorship' for its selfish ends. This is a sad event for Taiwan and for Taiwanese democracy," Hung said in the statement.
Earlier yesterday, before the bill's passage, Hung had said the bill would push the nation's democracy backward and aggravate social divisions.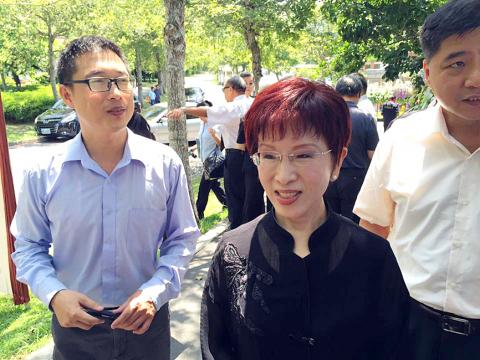 Chinese Nationalist Party (KMT) Chairwoman Hung Hsiu-chu, center, arrives in Yilan County yesterday.
Photo: Lin Ching-lun, Taipei Times
Hung made the remarks yesterday morning in Yilan County, on the sidelines of the funeral of former Yilan County commissioner Lu Kuo-hua's (呂國華) mother, which coincided with the legislature's discussion of a bill to deal with the KMT's ill-gotten assets.
"I have reiterated several times that the KMT's opposition to the draft bill is not tantamount to an attempt to protect our party assets. We simply do not agree with the passage of something that is illegal and unconstitutional," Hung said.
The bill would only retard Taiwan's democratic growth, Hung said, accusing the Democratic Progressive Party (DPP) of intensifying political divisions and causing social instability.
Criticizing the DPP as arbitrary, violent and impudent, Hung said that the KMT would like to see reconciliation between the pan-blue and pan-green camps, but it is puzzled by the ruling party's actions.
"If the legislature uses 'majority violence' and passes the draft bill, the KMT will continue to survive and stride forward with a firm and steady step," Hung said.
Separately yesterday, former vice president Wu Den-yih (吳敦義) — who is said to be interested in running for KMT chair next year — said the party should return all its assets that were not obtained in a justifiable manner, or they would forever be a "cash machine" for the DPP.
"This is not the sort of baggage the healthy and hard-working KMT should carry. Putting down the baggage in a fair and rational manner as soon as possible is the right thing to do," Wu said.
Wu said while the KMT caucus stood little chance of preventing the DPP from passing the draft bill, the principles of justice and equality would be better upheld if the matter is addressed via filing for a constitutional interpretation instead of a political struggle.
However, the former vice president took issue with the use of the term "ill-gotten" in the bill's title, saying that several Control Yuan members and the former DPP administration had conducted exhaustive probes into the KMT's assets.
Additional reporting by Lin Liang-sheng.
Comments will be moderated. Keep comments relevant to the article. Remarks containing abusive and obscene language, personal attacks of any kind or promotion will be removed and the user banned. Final decision will be at the discretion of the Taipei Times.