Lawmakers divided on Pingpu recognition
DECADES-LONG BATTLE: DPP Legislator Kolas Yotaka called for the passage of an amendment to remove the distinction between 'plains' and 'mountain' Aborigines
Aboriginal divisions over giving recognition to members of Pingpu Aboriginal communities were yesterday on full display at a Legislative Yuan forum, with Aboriginal legislators sparring over how such recognition should be accomplished, while many legislators declined to attend.
"The Status Act for Indigenous Peoples (原住民身分法) has us by the throat, making it impossible for us to do anything," Democratic Progressive Party (DPP) Legislator Kolas Yotaka, who is Amis, said at a Legislative Yuan forum on restoring Pingpu status and rights hosted by the Pingpu Aboriginal Status and Rights Restoration Working Group and the Tainan Siraya Village Development Promotion Association.
"Pingpu" is a general term used for Aboriginal communities that inhabited lowland regions of western Taiwan, with strong assimilation pressure from Chinese immigrants over centuries causing them to largely lose their ancestral languages and lifestyles.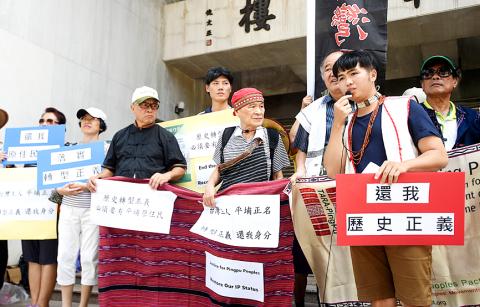 Aboriginal rights advocates demonstrate outside the Legislative Yuan in Taipei on Friday last week, calling on the government to recognize the Pingpu Aboriginal community and include them in the transitional justice process.
Photo: Fang Pin-chao, Taipei Times
While members of Pingpu communities have fought for official recognition for decades, only members of the Kavalan people have succeeded, winning recognition from the Executive Yuan in 2002.
Kolas called for the passage of a constitutional amendment to remove the distinction between officially recognized "plains" and "mountain" Aborigines, along with amendments to the Status Act for Indigenous Peoples and the passage of a new Pingpu status act to grant official recognition to members of Pingpu communities.
"After 30 years, there is finally a beam of sunlight — although I would not say there is a lot of sunlight," she said, referring to campaign promises by President Tsai Ing-wen (蔡英文) of the DPP to push for official recognition of Pingpu communities and to issue an official apology to all Aborigines on Aug. 1.
"There has always been light, it was just blocked by clouds," said New Power Party (NPP) Legislator Kawlo Iyun Pacidal, who is also Amis, adding that there was no need to pass new legislation, because the Status Act for Indigenous Peoples does not define the legal period within which "plains" Aboriginals can register their status.
"As we are already on the last lap, I do not think we should add more distance by taking on the passage of amendments or new Pingpu status legislation," she said, adding that Pingpu communities could be recognized immediately if the Executive Yuan changes its interpretation of the legislation's registration provisions.
Both legislators gained seats through their respective parties' legislator-at-large tickets and are likely to be rivals in the next election cycle for seats in the nation's multimember "plains" Aboriginal district, to which Pingpu Aborigines would likely be assigned if granted official recognition.
Non-partisan Solidarity Union Legislator May Chin (高金素梅), who is half-Atayal and represents "mountain Aborigines" in the Legislative Yuan, was also at the forum, while the DPP's "plains" Aboriginal Legislator Chen Ying (陳瑩) declined to attend, as did several Chinese Nationalist Party (KMT) legislators who hold most multimember district seats.
"Aboriginal legislators should not worry about being able to hold onto their seats if Pingpu communities are recognized," said National Dong Hua University professor Shih Cheng-feng (施正鋒), who claims to have partial Pingpu ancestry, adding that he estimated "at most" 200,000 Pingpu Aborigines would register if granted official recognition.
The nation currently boasts almost 500,000 Aborigines from officially recognized tribes, with the more than 200,000 members of the Amis people comprising the vast majority of eligible "plains" aboriginal voters.
"If Tsai just apologizes next month without doing anything substantial, she will just be putting on a deceptive show, because an apology should include promises to immediately address specific issues," Shih said, calling for Tsai to immediately recognize members of Pingpu communities.
He added that Pingpu Aborigines should be entitled to special subsidies and other privileges enjoyed by members of officially recognized communities.
"Your identity is what should determine your rights — whether you live in a village or city, or have already become 'overly sinicized' has nothing to do with it," he said, adding that using "sinicization" to deny Pingpu rights would imply other Aborigines could lose their rights if they become more assimilated.
Comments will be moderated. Keep comments relevant to the article. Remarks containing abusive and obscene language, personal attacks of any kind or promotion will be removed and the user banned. Final decision will be at the discretion of the Taipei Times.