Jeremy Lin mum on NBA plans
NATIONAL FAVORITE: Lin was greeted by more than 200 fans on his arrival at the Taiwan Taoyuan International Airport and he gave away autographed caps and T-shirts
Taiwanese-American professional basketball player Jeremy Lin (林書豪) yesterday remained tight-lipped about which National Basketball Association (NBA) team he hoped to play for next season, saying that the most crucial thing is that he should feel happy playing basketball.
"To me, the most important thing as a free agent is that I am happy when I play basketball or show up for work. I was happy last year, but I was not particularly happy for the first five years [as an NBA player]," he said at a press conference in Taipei. "To be happy, I need to consider a few things. Of course I am going to consider who is coaching the team, the team's style, the players on the team and their chance of winning, as well as the on-court time I have and if I have a chance to start."
As to which team he would prefer to sign with, Lin said his agent would call him after the June 23 NBA draft is completed, when the NBA teams are scheduled to trade players.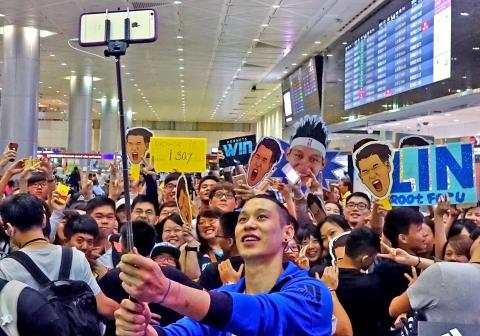 Taiwanese-American basketball player Jeremy Lin, front center, takes a selfie with fans yesterday at Taiwan Taoyuan International Airport.
Photo: Chu Pei-hsiung, Taipei Times
The 27-year-old Charlotte Hornets guard had quite a productive season, averaging 11.7 points, 3 assists and 3.2 rebounds per game. His average score went up to 12.4 points in the playoffs.
Earlier this week, US media reports said he had declined the player option on his contract and is to become an unrestricted free agent this summer.
Several NBA teams were reported to be interested in recruiting Lin, including the New York Knicks, the Houston Rockets, the Brooklyn Nets, the Philadelphia 76ers, the San Antonio Spurs, the Los Angeles Clippers and the Portland Trail Blazers.
Lin was greeted by more than 200 fans on his arrival at the Taiwan Taoyuan International Airport early yesterday morning. Apart from giving autographs, Lin took selfies with his fans and gave away autographed caps and T-shirts.
Lin also attended a news conference organized by his sponsor, Adidas, where he met with some high-school basketball players.
Lin's brother, Joseph Lin (林書緯), is a point guard with the Fubon Braves of the Super Basketball League.
Jeremy Lin said he is very proud of his younger brother's achievement.
He said he knew many young players watched YouTube videos and copied the moves of famous players.
He said footwork and the fundamentals of the game are the most important things for young players to learn, adding that beautiful moves do not necessarily help increase a player's shooting average.
Comments will be moderated. Keep comments relevant to the article. Remarks containing abusive and obscene language, personal attacks of any kind or promotion will be removed and the user banned. Final decision will be at the discretion of the Taipei Times.