PROFILE: Stanley Kao, the veteran diplomat turned US envoy
President Tsai Ing-wen (蔡英文) has made it no secret that one of her administration's priorities is to address Taiwan's dependence on China by leaning more toward other nations, which is why the appointment of outgoing representative to Italy Stanley Kao (高碩泰) as Taipei's new envoy to Washington on Monday night has attracted much attention and discussion.
Unlike his predecessors, most of whom were well-established politicians, Kao has followed what many consider a typical career path for diplomats, graduating with a master's degree from National Chengchi University's (NCCU) Department of Diplomacy and working his way up from administrative positions within the Ministry of Foreign Affairs.
Over the course of his 36-year diplomatic career, Kao, 63, has had most of his overseas postings in the US, serving as an officer at the Taipei Economic and Cultural Office in Honolulu, Hawaii, in 1980 and a secretary at the Taipei Economic and Cultural Representative Office in the US in 1985, director-general of the Taipei Economic and Cultural Office in Atlanta, Georgia, in 1993 and Taiwan's deputy representative to the US from 2004 to 2008.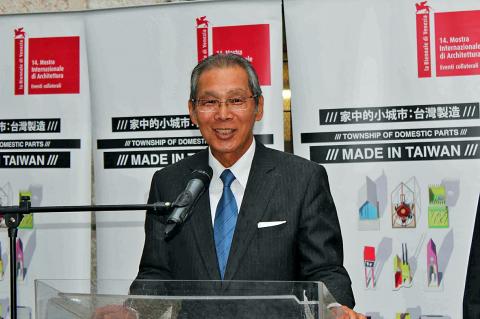 Then-representative to Italy Stanley Kao presides over the opening ceremony of the Taiwan pavilion at the Venice Biennale in Italy on June 5, 2014.
Photo: CNA, provided by the Taipei Representative Office in Italy
He has also served as director-general of the Department of North American Affairs, deputy representative to the WTO and representative to Hungary, as well as director-general of the Department of Economic and Trade Affairs and director-general of the Department of International Cooperation and Economic Affairs.
During Kao's tenure as Taipei's deputy representative to Washington, he initially worked under then-representative to the US David Lee (李大維) — who on Friday last week succeeded David Lin (林永樂) to become the new minister of foreign affairs — and alongside Joanne Chang (裘兆琳), a research fellow at Academia Sinica's Institute of European and American Studies who assumed the post of deputy representative to the US in 2004.
Because of the trio's diplomatic expertise and the fact that they all obtained their bachelor's degrees from National Taiwan University's department of political science, they were dubbed by the media as the "Iron triangle of the representative office in the US."
Kao later worked under Joseph Wu (吳釗燮), who is now secretary-general of the National Security Council, after Wu was appointed to the post as representative to the US in 2007 by then-president Chen Shui-bian (陳水扁).
While acknowledging that he was somewhat surprised by Kao's new appointment, NCCU department of diplomacy associate professor Huang Kwei-bo (黃奎博) — who served as director of the Research and Planning Committee from 2009 to 2011 and knows Kao personally — said he has "the right qualifications and personality traits."
"Kao has earned many positive appraisals throughout his diplomatic career," Huang said. "Nevertheless, the challenges lying ahead might have little to do with his competence. It has more to do with whether he is able to obtain the support needed from Washington to execute the instructions issued by Tsai's administration," he said.
Despite some general concerns about Kao's tasks, Huang expressed confidence in the US envoy's ability to handle properly the thorny issue of imports of US pork containing residues of the leanness-enhancing drug ractopamine, which Washington has been pressuring Taipei to allow.
During his presidential terms, Chen also faced strong pressure from the US to allow imports of US beef containing ractopamine, Huang said, so much so that he even publicly lauded the quality of US beef in front of reporters when eating a steak during a visit to Texas in 2001.
"Kao helped handle the US beef matter when serving as deputy representative to the US. Although Washington must be putting greater pressure on the new government over imports of US pork due to the large amount of pork consumed in Taiwan, I believe Kao will have no problem dealing with the pork dilemma given his previous experience," Huang said.
Expressing a different view, Tamkang University's graduate institute of the Americas professor Edward Chen (陳一新) said Kao is not necessarily the best man for the job and that his relationship with Wu could be the main reason he has earned the trust of the new president.
"Many of Kao's previous superiors consider him to be a 'dynamic diplomat.' He is also certainly familiar with US affairs," Edward Chen said.
"However, Kao's new job will be filled with arduous tasks and his every action will be seen as an indicator of the foreign policy leanings of Tsai, who is sandwiched between the US, Japan and China," he said.
Other academics were also divided over the implications of Kao's appointment.
NCCU's Department of Political Science associate professor Eric Yu (俞振華) said as it seems that Kao's primary tasks would be to carry out the wishes of Tsai and the upper echelons of the national security bureaucracy, he would be unlikely to make many ground-breaking achievements.
However, National Chung Hsing University's Graduate Institute of International Politics professor Tsai Ming-yen (蔡明彥) said that while Kao does not carry much political weight, his appointment signals smooth communication between Taipei's and Washington's national security leaders given his relationship with Wu.
"Also, the fact that Kao is neither a political heavyweight or affiliated with a particular political party shows a high level of mutual trust between Tsai Ing-wen's administration and the US," Tsai Ming-yen said.
Comments will be moderated. Keep comments relevant to the article. Remarks containing abusive and obscene language, personal attacks of any kind or promotion will be removed and the user banned. Final decision will be at the discretion of the Taipei Times.