Save Kaohsiung church: experts
'CULTURAL VALUE': The Nanzih Presbyterian Church wants to demolish the building because elderly worshipers have trouble climbing its steep staircases
The Nanzih Presbyterian Church should not proceed with a plan to demolish an historic building, arguably the oldest Christian church in Kaohsiung, local historian Lin Sheng-tung (林勝童) said, calling the decision "deeply regrettable."
Although most residents believe that the Holy Rosary Cathedral is the oldest Christian church in Kaohsiung, conventional wisdom erroneously confuses the date of the church's construction with the actual age of the architecture, Lin said.
The Nanzih Presbyterian Church was originally built in Kaohsiung's Chiaotu District (橋頭) in 1929 and was later reconstructed using the original materials on Nanzih Street, its current address, making it two years older than the Holy Rosary Cathedral, he said.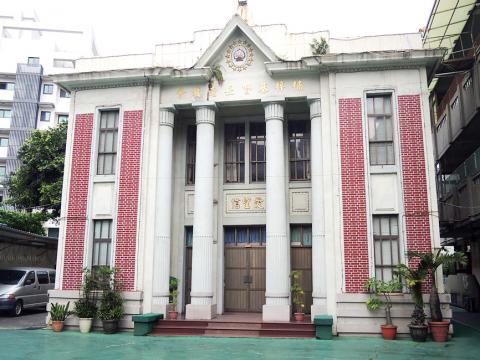 The Nanzih Presbyterian Church in Kaohsiung's Nanzih District is pictured on Wednesday. The building is the oldest of its kind in Taiwan.
Photo: Tsai Ching-hua, Taipei Times
In the past, Kaohsiung Christians were ostracized and slandered because their doctrines and practices — such as refusing to participate in ancestral worship — contradicted traditional Taiwanese social mores and rituals, and local residents sometimes hurled feces at the church, he said.
However, Kaohisung's Presbyterians thrived in spite of their hardship and in 1929 they built the largest Christian church in the city.
"The Nanzih Presbyterian Church's architecture is baroque in style, with both modern and classical elements as well as some Egyptian-inspired details, with an overall effect that is austere, solemn and of aesthetic value to Kaohsiung," National Cheng Kung University architecture professor Fu Chao-ching (傅朝卿) said.
Lin said that the church's most distinctive architectural feature is its burning bush emblem, which in Presbyterian symbolism should have a circle of 12 stars, symbolizing the 12 tribes of Israel, but instead it has 16 stars, which he speculated to have been a stone mason's error or an intentional design whose symbolism has been lost to history.
If the demolition of the church proceeds as planned, the burning bush emblem would be the only part of the original structure that would be preserved.
The undulating gable of the priests' dormitory, which is shaped like a crown, is also a unique detail that is not found in any other Christian church in Taiwan, Lin said.
When asked for comment, the Nanzih Presbyterian Church said that the decision to demolish building was not one that its congregation made lightly, but that the decision was taken due to the building's aged facilities and because elderly worshipers had trouble climbing its steep staircases.
The Kaohsiung Bureau of Cultural Affairs said that the church is listed as a site with "potential cultural value" and it had sent officials to consult with the congregation to communicate the bureau's wish that architects and historians be appointed to help select and preserve portions of the original structure.
Comments will be moderated. Keep comments relevant to the article. Remarks containing abusive and obscene language, personal attacks of any kind or promotion will be removed and the user banned. Final decision will be at the discretion of the Taipei Times.