VAC grilled over KMT 'fat cat' appointments
Legislators yesterday blasted the Veterans Affairs Council (VAC) for monopolizing and profiteering in certain business sectors, operating in the dark without public scrutiny on executive appointments and skirting around the law to turn the agency into a "private bank vault" for the Chinese Nationalist Party (KMT) and retired military generals.
VAC Minister Tung Hsiang-lung (董翔龍) was grilled at a stormy legislative session, where legislators accused him of approving "black box" deals for the agency, which saw it become packed with "patronage appointments" of "fat cat" retired generals who are also KMT members, rewarding their political loyalty and long-time service to the party.
The Cabinet-level VAC mostly deals with the benefits given to retired military officers and soldiers. However, it also oversees a vast business empire including financial fund management, investment in the private sector and the operation of subsidiary companies, some of which have been privatized and others that still have government-owned stakes.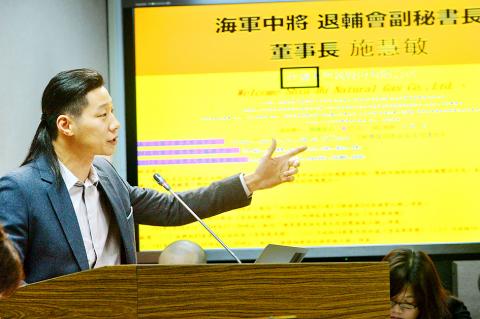 New Power Party Legislator Freddy Lim yesterday questions the Veterans Affairs Council's handling of the Veterans Placement Fund at the legislature in Taipei.
Photo: CNA
In a report presented by Tung to the legislature's Foreign Affairs and National Defense Committee, he said that the various VAC business investments last year generated revenue of NT$39.6 billion (US$1.2 billion) last year, with after-tax profit of NT$2.67 billion.
Democratic Progressive Party (DPP) Legislator Chen Ting-fei (陳亭妃) said the VAC has deceived the public by claiming its successful privatization over the past decade.
"In reality, these companies are controlled by the KMT," she said. "They became profitable business assets for the KMT, as the presidents of these companies, their boards of governors and top executives are retired military generals, who are all KMT members and appointed to these 'fat cat' posts."
Chen called the VAC a "private bank vault" for the KMT, citing Shin Shin Natural Gas Co (欣欣天然氣) and its president, Chen Ho-chia (陳何家), who was a member of the KMT Central Committee; Shin Hu Natural Gas Co (欣湖天然氣) and its president, Shih Hui-min (施慧敏), a retired navy vice admiral and a KMT member; and Shin Chia Petroleum Gas Co (欣嘉石油氣) and its president, Chang Ching-hsiang (張慶翔), a retired military police commander and also a KMT member, as examples.
"Most of these military officials took up their high-paying executive positions at these VAC-related companies the day after they announced their retirement," Chen said. "The VAC minister made these appointments, which were clearly not based on expertise, knowledge or professional work experience in the energy sector, but were based on their connections in the KMT."
New Power Party Legislator Freddy Lim (林昶佐) also questioned Tung on "patronage appointments," where certain appointments appeared to have been made as reward for long-term service to the KMT.
He demanded full disclosure on how these executive posts were filled and which VAC or other government officials made the appointments.
Lim said that some VAC-related companies and investments have been poorly managed, including RSEA Engineering Corp (榮工工程, formerly the Retired-Servicemen Engineering Agency), which has seen a loss of more than NT$10 billion in recent years and has been under judicial investigation for corruption.
He said that there are many good businesspeople with management experience in the private sector, as well as lower-ranked retired military officers, but the VAC has ignored them and instead filled posts with high-ranking retired military officials who have no relevant professional experience.
DPP Legislator Lo Chih-cheng (羅致政) said that the VAC appointments are draining the national coffers, because these positions all have high-paying salaries, some at more than NT$190,000 per month, which is close to the level of a government minister.
"The public is offended by the venal ways of the KMT's 'fat cat' officials who are filling these posts at great expense to taxpayers," Lo said.
Comments will be moderated. Keep comments relevant to the article. Remarks containing abusive and obscene language, personal attacks of any kind or promotion will be removed and the user banned. Final decision will be at the discretion of the Taipei Times.