ELECTIONS: Elections marked by youth engagement and energy, international observers say
This year's elections have been marked by energy and youth engagement, members of an international delegation of election observers said yesterday.
The 18 members of the International Election Observation Mission were invited by the Taiwan Nation Alliance and International Committee for a Democratic Taiwan to observe electoral activities from Tuesday until tomorrow, before issuing a report evaluating the electoral process and conduct of political parties using international standards.
The delegation's head, former US senator Frank Murkowski, said that in meetings with party officials across the nation, delegation members reported a prevailing spirit of enthusiasm and hope, citing activity by young people as the greatest different between this election and what he observed four years ago.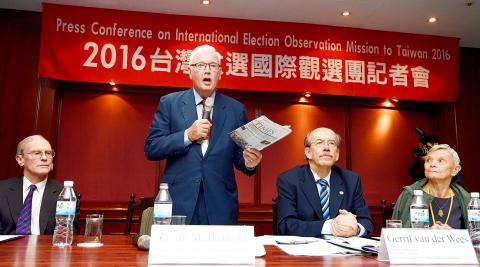 Left to right, Stephen Young, Frank Murkowski, Gerrit van der Wees and June Teufel Dreyer hold a press conference at the Howard Hotel in Taipei yesterday.
Photo: Lo Pei-der, Taipei Times
"The involvement of youth — as opposed to the traditional types that we see often in polling places — is a little different than it was four years ago," he said, adding that the "third force" New Power Party clearly represents "new power," because its offices were located up four flights of stairs that only young people could run up and down.
University of Miami professor of political science June Teufel Dreyer said this election had the most excitement of any she had seen in Taiwan since beginning observations in the 1980s.
"There is much more of a feeling of anticipation that this is a watershed election, that you are on the verge of something very different for Taiwan; not only a possible alternation of political parties, but a possible realignment of the political system and also much more of a mood of 'we can change things,'" she said.
Monash University emeritus professor Bruce Jacobs said he felt this election had proved quite calm and quiet in a continuation of trend which started during the last election cycle.
While part of the reason could possibly be ascribed to the relative lack of charisma among presidential candidates, the "routinization" of elections could also be a factor, he said, adding that prosecutors this election had proven eager to crack down on vote-buying.
Comments will be moderated. Keep comments relevant to the article. Remarks containing abusive and obscene language, personal attacks of any kind or promotion will be removed and the user banned. Final decision will be at the discretion of the Taipei Times.